ARLTC Season 1 - R1 Mid-Ohio Report
Welcome to the first official ARLTC Season! It is safe to say that the 2019/20 Winter Series gave our drivers the opportunity to dip their toe in the water with the brand new Audi RS3 LMS, but now the time has come for everyone to play their cards and find out who has really mastered it!
Winter series champion Wojciech Swirydowicz and closest rival Jack Sedgwick return once again to the series to pick up right where they left off and continue their battle for the top-step of the podium. Joining them and one to watch for this season is Jason Cooper, who snapped up 3rd place overall in the last round of the Winter series and has already shown some great speed this year in pre-season testing
Of course the 2017 BTCC Champion Ashley Sutton once again takes to the grid, but this year he is joined by a host of colleagues in real-life motorsport, with ex. WTCC driver Daniel Nagy, and Aston Martin Racing factory driver Charlie Eastwood headlining Turn 3 Motorsport's line-up.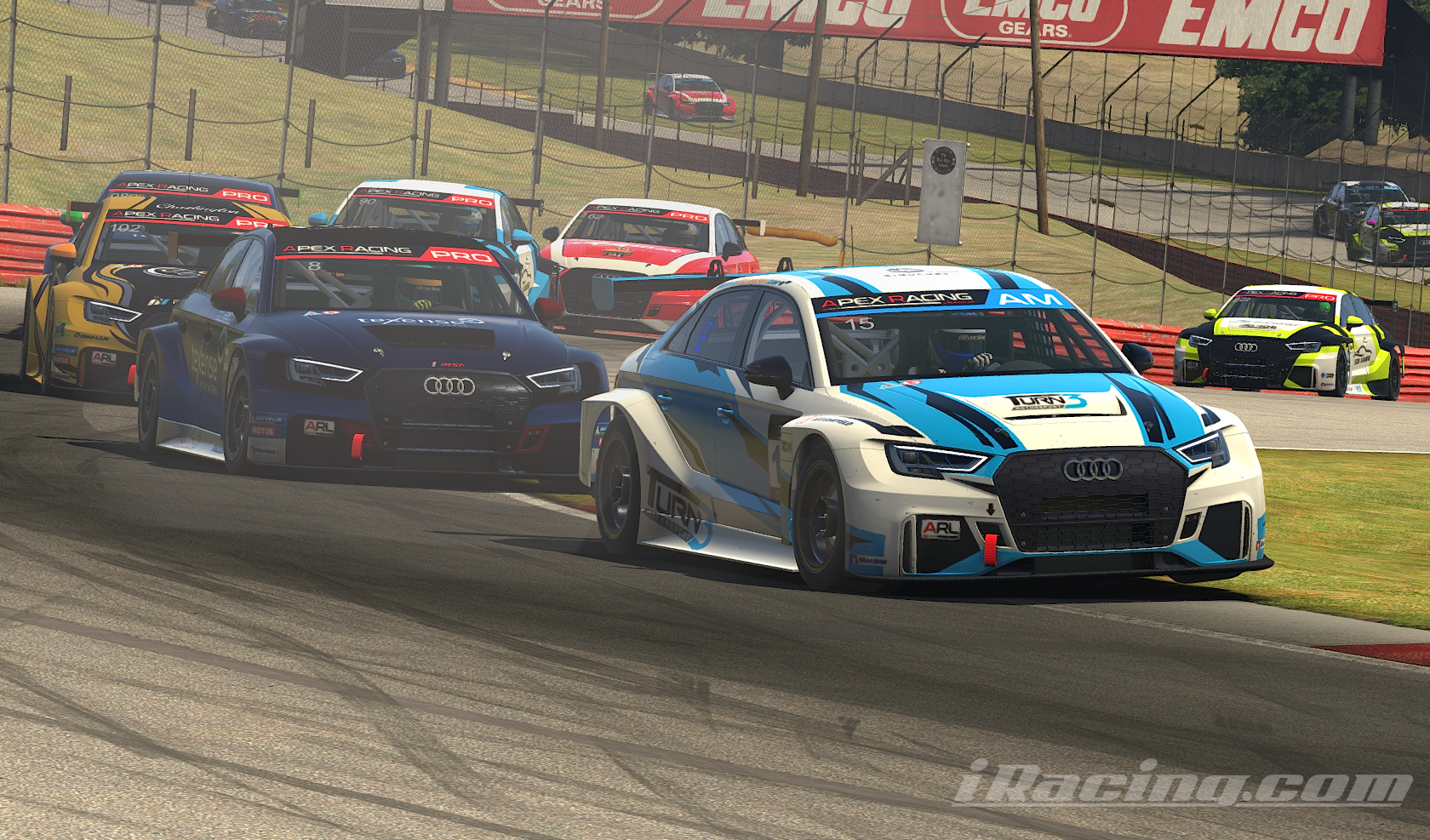 On the subject of Turn 3 Motorsport, they have brought an all-star line up to the grid with two teams packed full of racing experience. Eastwood is joined by Irish Legends racer Niki Meredith & Former Formula Renault driver Keith Dempsey. In the sister car, Indy lights superstar Peter Dempsey will be working closely with Irish rally & GT driver Robert Barrable & Legends racer James Holman to extract the maximum from the car. Keep an eye on these guys!
Craig's Setup Shop joins us off the back of a successful NEO Endurance series campaign. Unfortunately Apex Racing Team had already pinched their leading light Jack Sedgwick, but an equally strong line-up of Josh Thompson, Tim Greven & Craig Williams himself will surely see them competing for victories this season.
TexSense FitzSty Motorsport also joins us on the grid. Series legend Ross Macfarlane carries ample experience of touring car driving on iRacing, and his speed is more than likely to rub off on championship newcomers James Styles & Michael Evdoka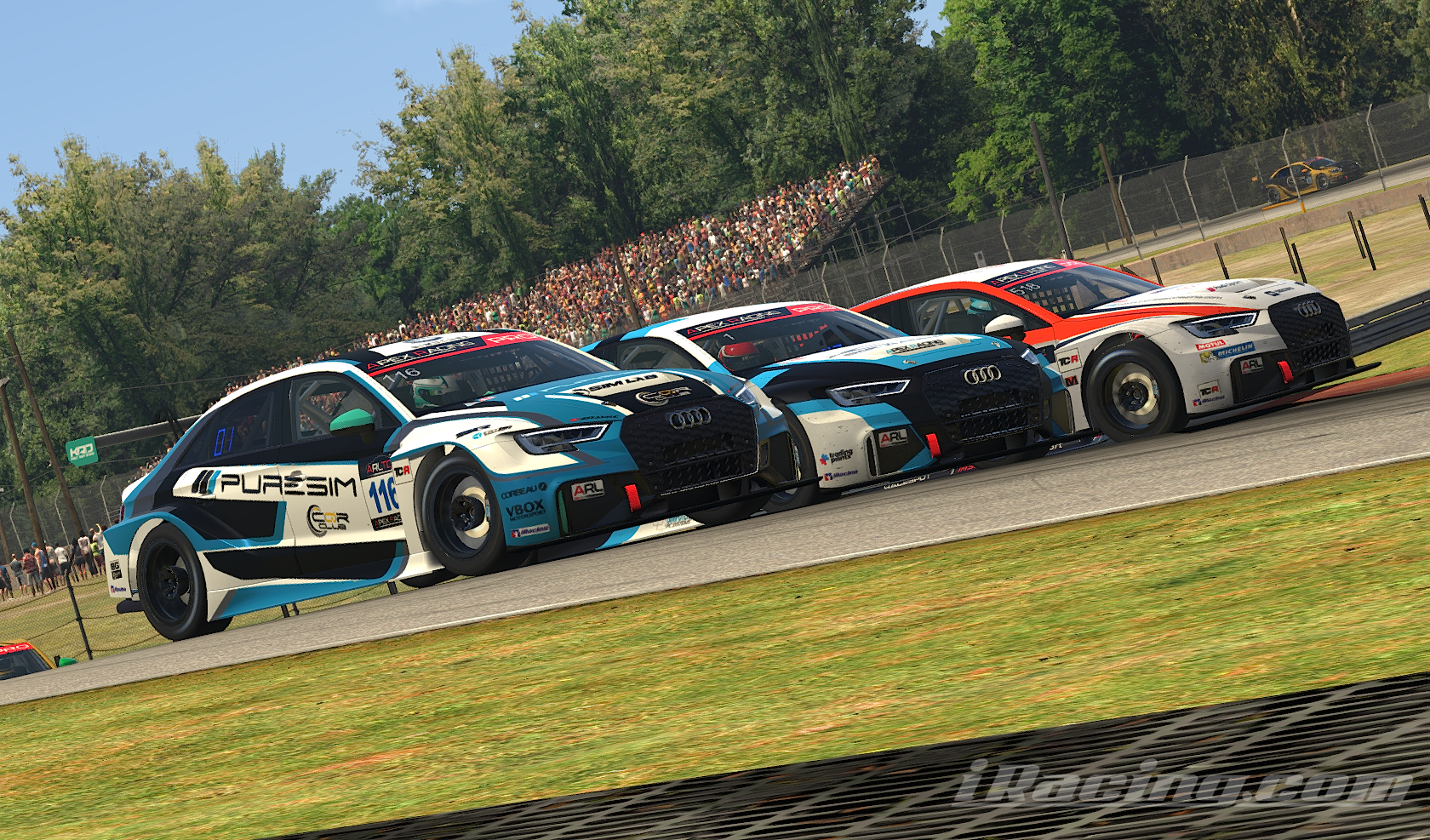 Wojciech Swirydowicz clearly hasn't lost any of his speed over the break, smashing the pole-position by 0.15s ahead of nearest rival Ashley Sutton. Ross Balfour parked his Audi in 3rd position on the grid only 0.17s off Woj's lap, and a notably good lap for Jake Blackhall saw him lining up on the 2nd row.
Jack Sedgwick would've been disappointed with only 5th place on the grid, but David Baker certainly would've been pleased with qualifying the #6 car in his usual 6th place spot, hopefully casting him some good luck for the season!
Pole-sitter in the AM class was Matthew Bunn in 24th position. Just over 0.6s off the pole-sitter. He had BoosTED Motorsport's Mike Horder and Automek's Luke Cooper qualified just behind, hoping to snatch the AM victory
Wojciech made a good start, but by Turn 2 Sutton was already chewing his rear bumper, itching to get past. A bold move on the outside line got the pair side-by-side, and Sutton did just enough to keep momentum on the exit. As the pair drag-raced down to turn 3, Sutton was able to pull in-front and never looked back.
The top 6 stayed in position almost for the entire race, with under two seconds separating the top 5 cars, the tight and twisty Mid-Ohio layout proved to make opportunities for passing few and far between.
On the final lap however, Woj built up enough courage to try a move and went to the outside of Sutton into turn 3. The pair exited the corner together, and as Sutton defended Ross Balfour made the most of the opportunity to make it 3-wide into turn 4!
The trio ran side-by-side into turn 5, with Woj eventually backing down, allowing Sutton to resume the lead, with Balfour taking 2nd place & holding it to the finish.
Matt Bunn held onto the AM lead for the entire race. It was relatively trouble-free apart from coming together with Daniel Nagy at turn 1. He was able to gain 3 positions on his way from 24th to 21st overall, finishing in a tight battle with Kevin Carlisle and Adam Hadfield +17s off the lead.
Jamie Rushworth wasted no time in displacing Jorge Ordonez Villegas from the race lead during the first lap, quickly leaving the chasing pack behind him and building a comfortable gap. Further back, CQR stable-mates Pete Newman and Pete Harrod were able to battle their way through from 5th and 11th on the grid respectively to give chase.
Ahead of him Rushworth was being slowly reeled in by the two Pete's. Normally we would expect ex. Champ Rushworth to leave the competition for dead, however he was struggling with some C-bar issues affecting his driving and costing him time.
The pair of Pete's were unable to catch him however, but they were still happy enough to put their various CQR cars 1-2-3 on the score sheet, despite the fact that each driver is officially driving for separate teams. Pete Newman picked up the AM win, having started in 5th and made a quick getaway from the chasing pack and hold onto the podium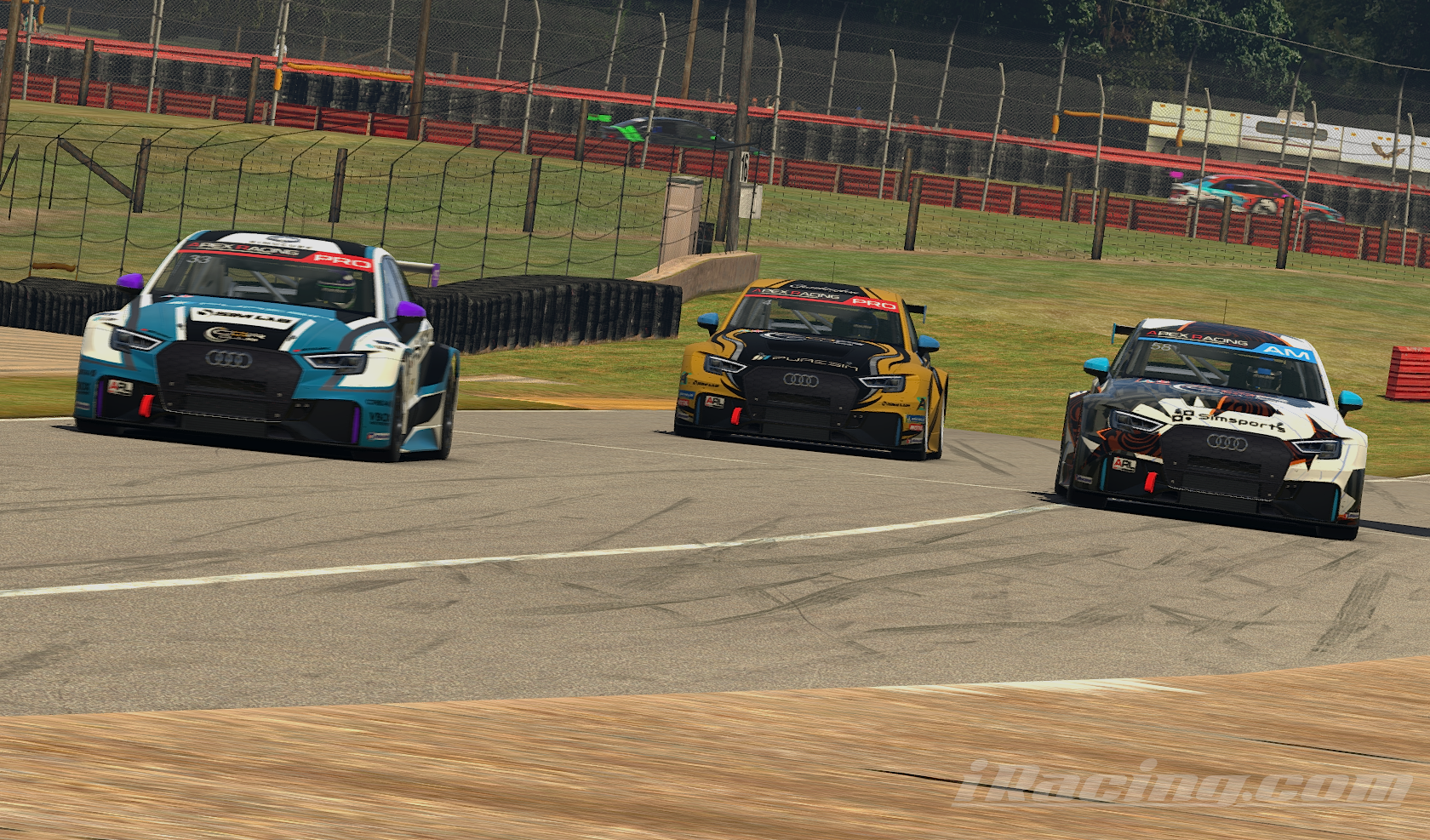 I think it is fair to say there was a bit of carnage at the beginning of Race 3, a big crash towards the middle of the field left quite a few cars with damage. No bother for Jason Cooper however, who leapt at the opportunity to make himself scarce. Alex Simpson did his best to give chase having cleared Dirk Reski and Rob Jackson from the front-row of the grid.
However, Cooper's pace was just too quick and Alex soon found himself under pressure from Turn 3 Motorsport's Peter Dempsey. Eventually Simpson managed to hold on, just half a second clear at the finish line.
Charlie Eastwood lead a charging pack through into 4th position up from 13th, with Daniel Nagy finally avoiding incident and making his way through to 5th from 19th on the grid.
It was a good race all around for the Cooper's, with Jason picking up the overall win and brother Luke collecting the AM win too.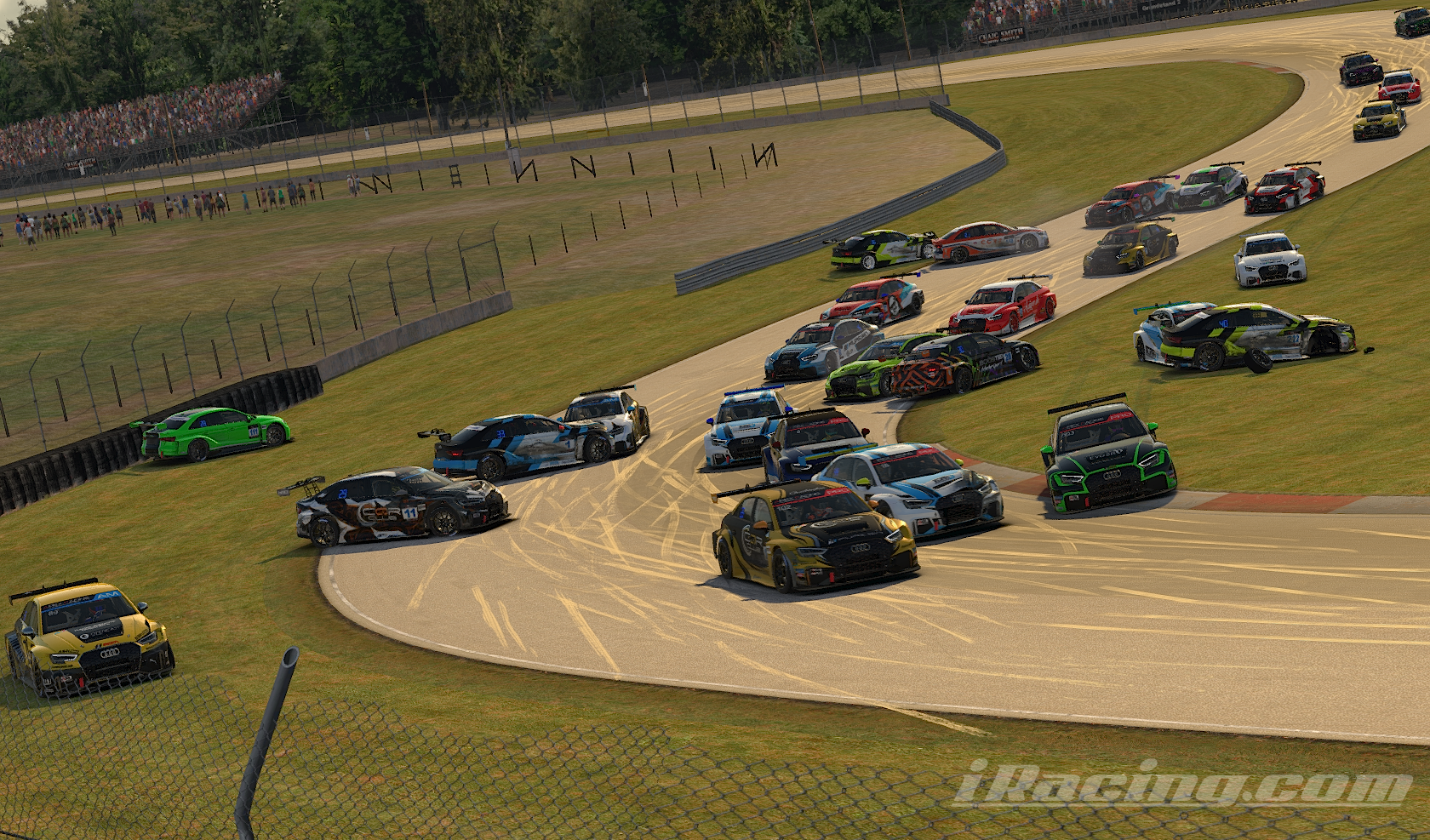 Overall CQR will be extremely happy with their results from the week. Ashley Sutton leads the Drivers standings, CQR Simsports & CQR Club are sitting 1-2 in the teams & Pete Newman is leading the AM drivers!
A good result for Jason Cooper puts him on the front foot with 2nd overall in the drivers. Connor Parise currently sits in 3rd place. He didn't trouble the podium but did manage to keep his nose clean and showed how consistent results pay off in this series!
We now look forward to Silverstone National on Thursday night. The short track and big straights should prove to make it an extremely tense and exciting event