ARL - GT Championship S2/R3 - Phillip Island
After two meetings which provided thrills, spills and some awesome racing, the ARLGT series headed down under to Phillip Island in Australia for Round 3.
Tom McMahon had won three out of the first four races in his Porsche, and was looking to add to his tally at this flowing, technical challenge of a track.
His meeting started in the best possible way, taking pole position by just 52 thousandths of a second in front of his EvoSR stablemate Matty Chambers, who had now been moved to the Pro category after a strong start to the season.
Round 1 polesitter Tahj Edwards lined up third, with the metronomically consistent Maik Wiesekopsieker joining his Gold Racing team-mate on row two.
Belgium's Jentsen Adriaenssens took the Am qualifying honours in 10th.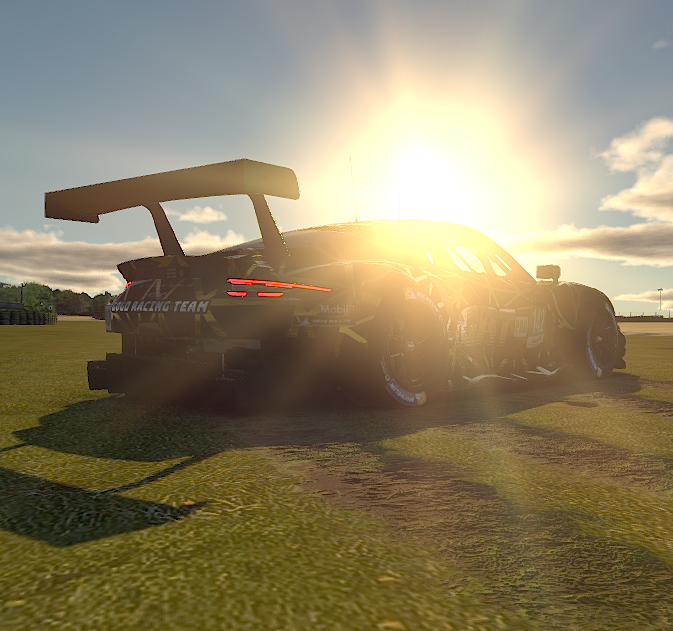 The start was fairly clean, apart from one or two exceptions. McMahon and Chambers formation flying at the front while Wayne Douglas and Daniel Lee battled hard for 5th.  Jeffrey Garzotto was the only real big name to have an issue, and his fightback would prove to be a long one.
Bob Humphrey was having a good start, diving through on James Holman at Honda Hairpin. 
At the front, Chambers and Edwards were pushing hard to try to force McMahon into a mistake, with Wiesekopsieker just 1.5 seconds off the lead in 4th after five laps. The German would later drop back but still ended up finishing
Daniel Lee was having a great battle with Aarron Powell, but it came to an end when Lee misjudged his braking point at the hairpin and lost several seconds and dropped outside the top ten. 
Edwards got it wrong at Lukey Heights on the final lap, allowing Wiesekopsieker to take the third step on the podium.  There was a spectacular end to the race when Douglas and Salt got together in the penultimate corner.  Douglas then rejoined in an unsafe fashion and was launched into the air as a lapped car came round the corner with nowhere to go.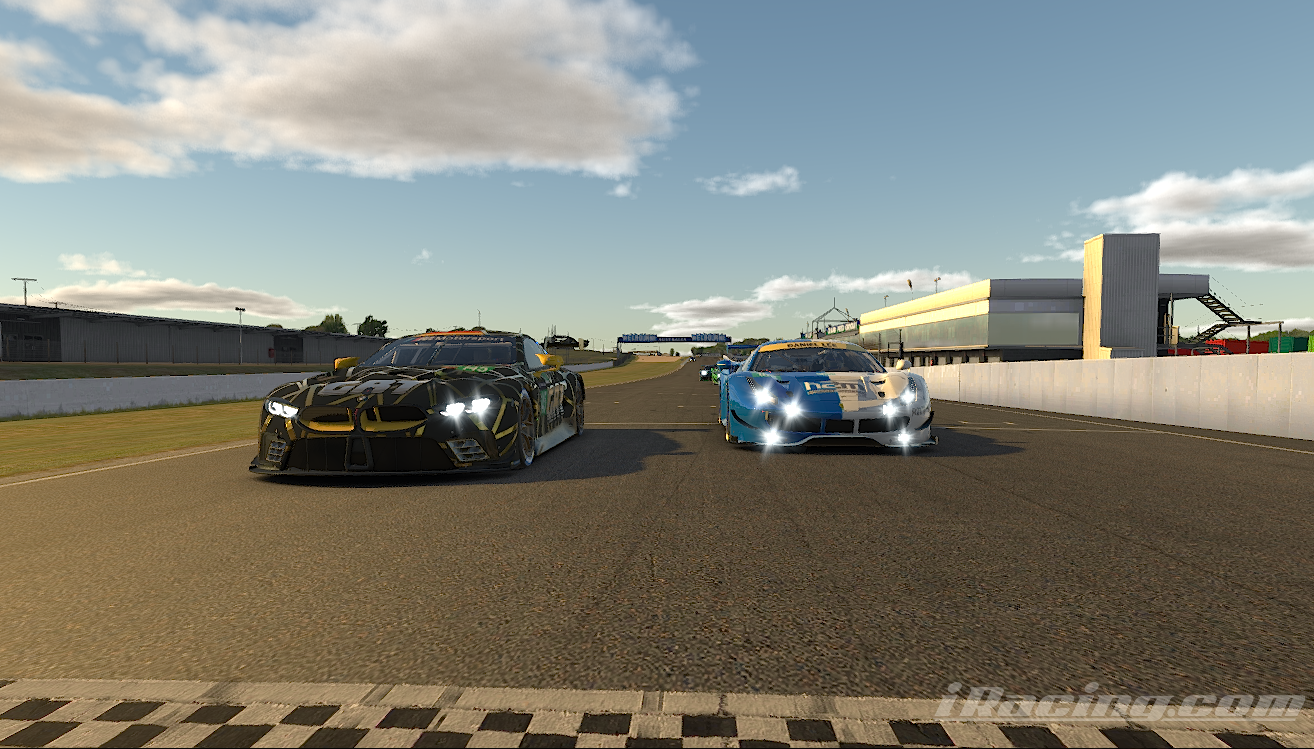 Fifteen cars were reversed for the feature race, with Andrew Becker taking pole position ahead of Saul, Tresidder and Brumfield.  Turns 1 and 2 can often cause issues by their fast nature, this race being no exception. Saul and Tresidder got together with Saul going off the circuit.  Just behind, Adriaenssens went around which caused chaos for the Gold Racing cars, Wiesekopsieker ending up off and into the stricken Ferrari. Wolf and Stevens were two high profile casualties of that crash as well.
Bob Humphrey took the lead from Becker and set about building a gap. The race did not go to plan at all for Becker, as he spun coming out of the final corner. He was the wallopped by Tresidder who had done exactly the same thing, compounding both their misery.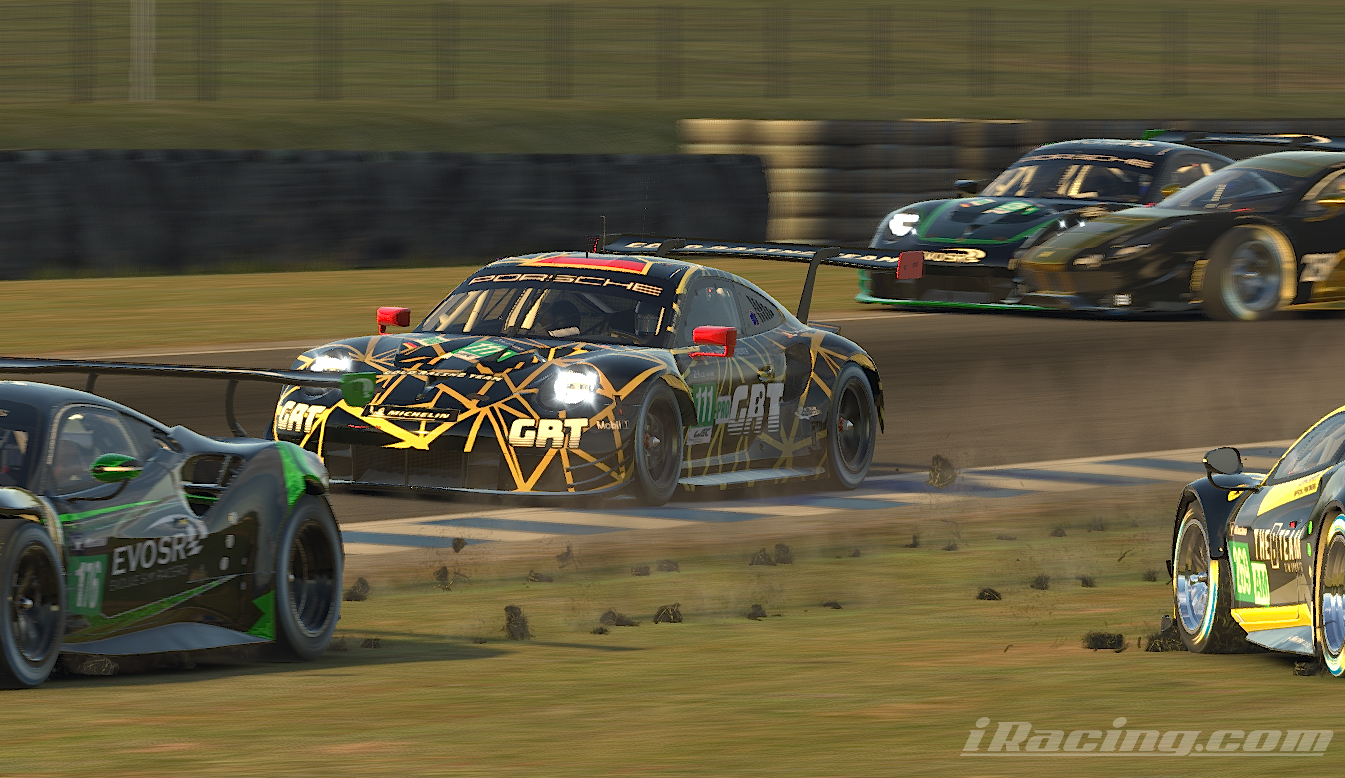 Sivi-Sazbo was off just a couple of corners later, followed swiftly by Powell and Douglas who collided on the entry to Turn 2.
Humphrey got even more than he bargained for, because he had nearly 4 seconds over Tom Stevens by the start of lap 4.  Stevens was tailed by Lee, Brumfield, Holman and Salt as they all vied for second place.
Lee and Stevens battled for 2nd for several laps, the place going back and forth before Lee finally prevailed. Stevens would finish 4th in the end.
Turn 2 became a big talking point in race 2, with many cars off throughout the duration; the marbles making what is already a difficult corner into a nearly impossible task for some. 
But it was plain sailing for Bob Humphrey – the reigning AM champion showing his mettel in the Pro ranks with a decisive victory.  Daniel Lee again showed his innate speed with second.  The final podium spot belonged to James Salt, who I feel just needs a good run to mount a real challenge for the top 5.
Championship Leader Wiesekopsieker ended up in 10th, with his closest challenger Tom McMahon getting 7th. 
Join us next week as the series heads into the French countryside, at the Circuit de la Sarthe.