ARL - GT Championship S1/R8 - Le Mans
The ARL GT Championship arrived at the Circuit des 24 heures du Mans for the 8th and final round of the season on April 26th. The PRO category driver champion was already crowned, but there were still championship decisions open in the AM and team category. The 24 hours of Nürburgring (that took place on the same weekend) had is impact this series, because many drivers were too tired after the run through green hell, so we had a field of only 19 cars for this event. Dennis Ipenburg lead the field towards the green flag with Maik Wiesekopsieker, Tahj Edwards, Steven Brumfield and Aarron Powell behind him. It was again Daniel Lee, who was the best AM driver on 6th position. Ipenburg had a good start, but was closely followed by Wiesekopsieker and they already started switching positions back and forth on the long straights. So did also the rest of the field. It's a picture we are used to at Le Mans. Unlucky for Brumfield he had a spin in Tertre Rouge and he dropped back to the last place. A bit under the radar Bob Humprey (the championship leader before the race) passed Daniel Lee (2nd in championship before the race).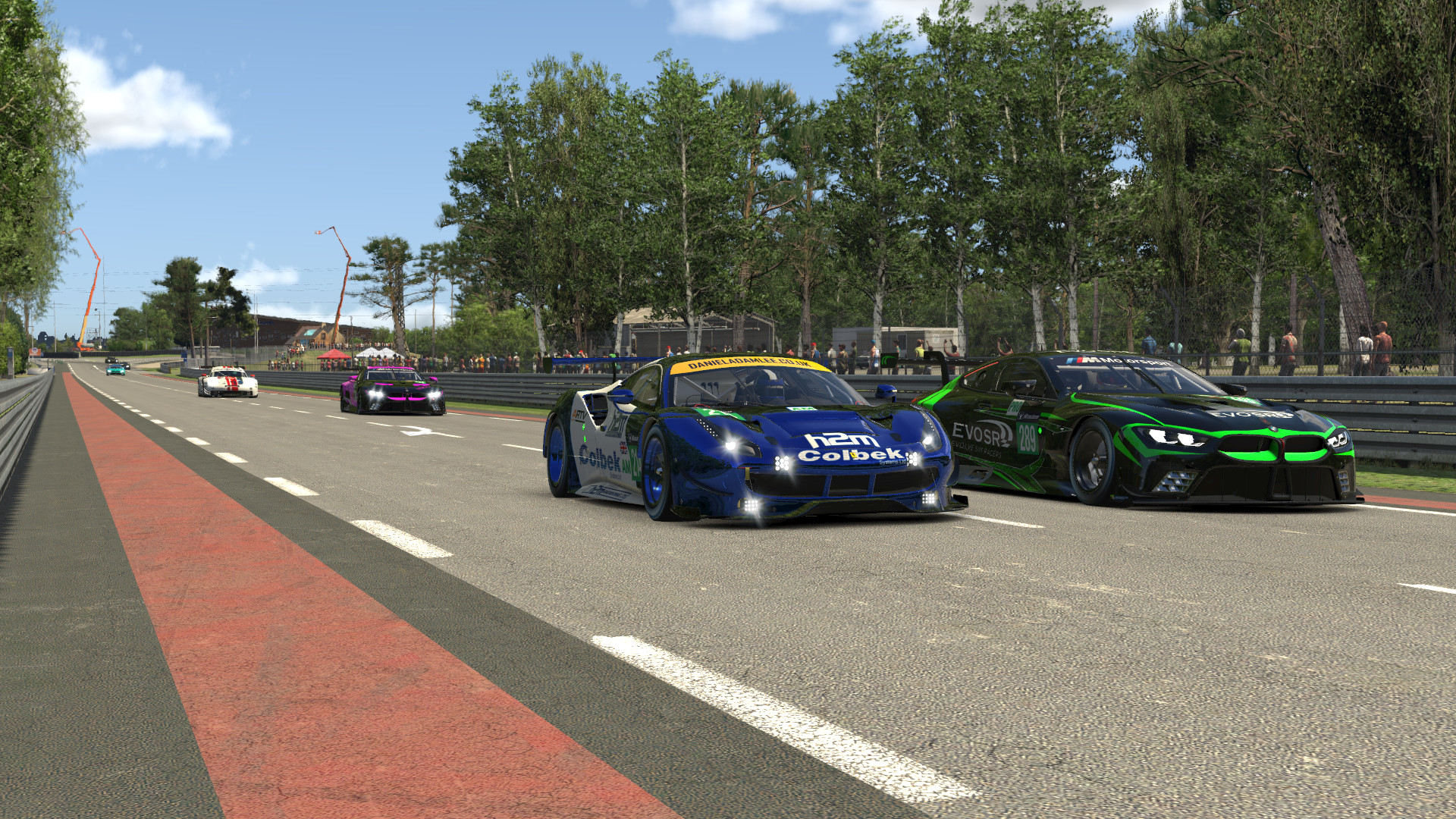 15 minutes into the race we had a controlled situation on the first 2 places, because Ipenburg was leading with around 3 seconds over Wieskopsieker, but around 4 more seconds behind Wiesekopsieker we saw a close battle for the podium with Edwards, Powell and Garzotto. Due to the long slipstream times at this track, it seemed impossible to separate the 3 cars. In the midfield was a nice train from P8 to P13 (Warren, Copeland, Saul, Brumfield, Stevens and Holland) fighting for every positions they could gain. Dennis Ipenburg lead from start to finish to take the race victory and after a half spin of Wiesekopsieker he almost lost P2 to Edwars, but just almost. Garzotto and Powell complete the top 5. Bob Humphrey finished on P6 (1 place in front of Daniel Lee) And Brumfield got back to P9 at the end of the race. Place 9 to 11 crossed the finish line within 0.100 seconds.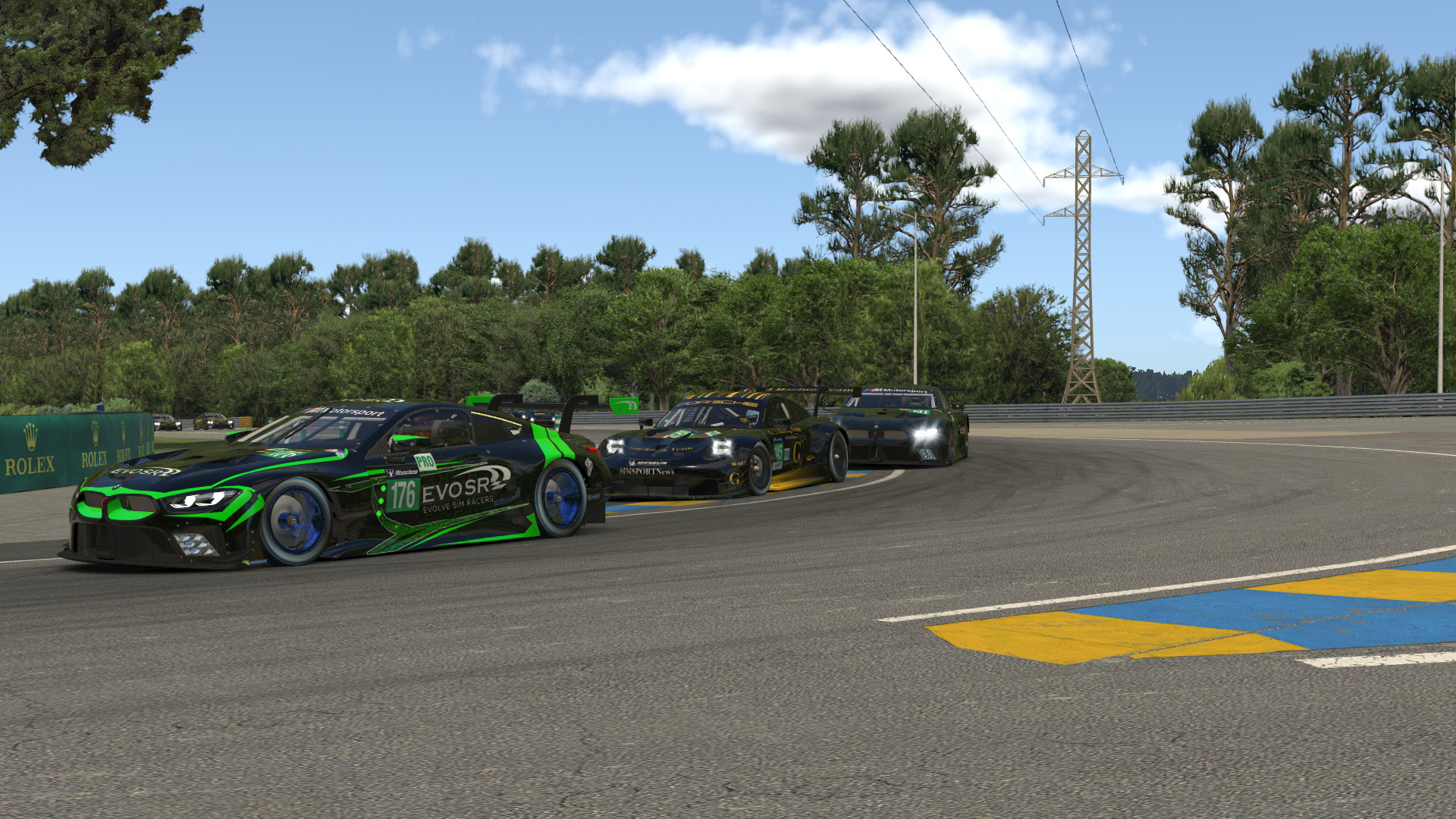 Tom Stevens was the lucky driver, who got pole for race 2 with Daniel Lee, Bob Humphrey, Aarron Powell and Jeffrey Garzotto behind him. The start was quite more exciting than race 1's, because Lee immediately tried to take the lead into the first chicane, but he and Stevens had a contact, so Lee spun out and dropped back. Stevens didn't really get into his rhythm and lost many places in the first lap. After lap one Humphrey was in the lead chased by Powell, Garzotto, Ipenburg and Edwards. Due to the battle for P2 between Edwards, Ipenburg and Powell, Humphrey was able to open a big gap to them. Behind this 3 car group we could watch a 4 four car battle with Garzotto, Lee, Brumfield and Wiesekopsieker involved. Both groups were switching positions every straight, so you couldn't say who will end a lap on which position. After the first half of the race Humphrey started struggling to keep his pace which gifted Edwards the lead and Ipenburg was in position to take another place from Humphrey. Only 1 later Ipenburg saw the opportunity and passed Humphrey for P2 and only a few corners later a small mistake by Ipenburg reset the everything, so fight could continue. A bit behind Powell, Brumfield and Wiesekopsieker were now the group for P4.
Tahj Edwards got his first victory in the championship in the last race. Dennis Ipenburg and Bob Humphrey could step on the podium as well and Aarron Powell and Steven Brumfield round out the top 5. Dennis Ipenburg got 2nd and Aarron Powell 3rd overall in the championship. Bob Humphrey became the AM category champion in front of Daniel Lee and Tom Stevens and Gold Racing Team won the team championship with EvoSR being on 2nd and The B Team on 3rd. Congratulations to the top finishers. Of course congratulations as well to everyone for a great season with amazing races! We're looking forward to see everybody back and of course to see new comers for next season of the ARL GT Championship.