ARL - GT Championship S1/R7 - Spa-Francorchamps
Round 7 of the ARL GT Championship took place on the great belgian race car roller coaster: Circuit de Spa-Francorchamps. It's a track, that many drivers like and know very well, which was hopefully going to bring fantastic racing.
After the qualifying the top 5 in order Tom McMahon, Eneric Andre, Tahj Edwards, Maik Wiesekopsieker and Dennis Ipenburg were within 0.6 seconds and top AM was Brandon Warren on P11.
Tom McMahon started the race early out of the last chicane, which gave him a comfortable gap. He needed this gap, because Eneric Andre outbraked himself towards La Source on cold tires and he almost ran in the back of McMahon. Tahj Edwards took an advantage of Andre's struggles and passed him. All in all we had a clean start and this time clean means clean. Except of Andre's missed braking point and Jeffrey Garzotto's slow down there were no other issues or incidents between the start finish line and Rivage.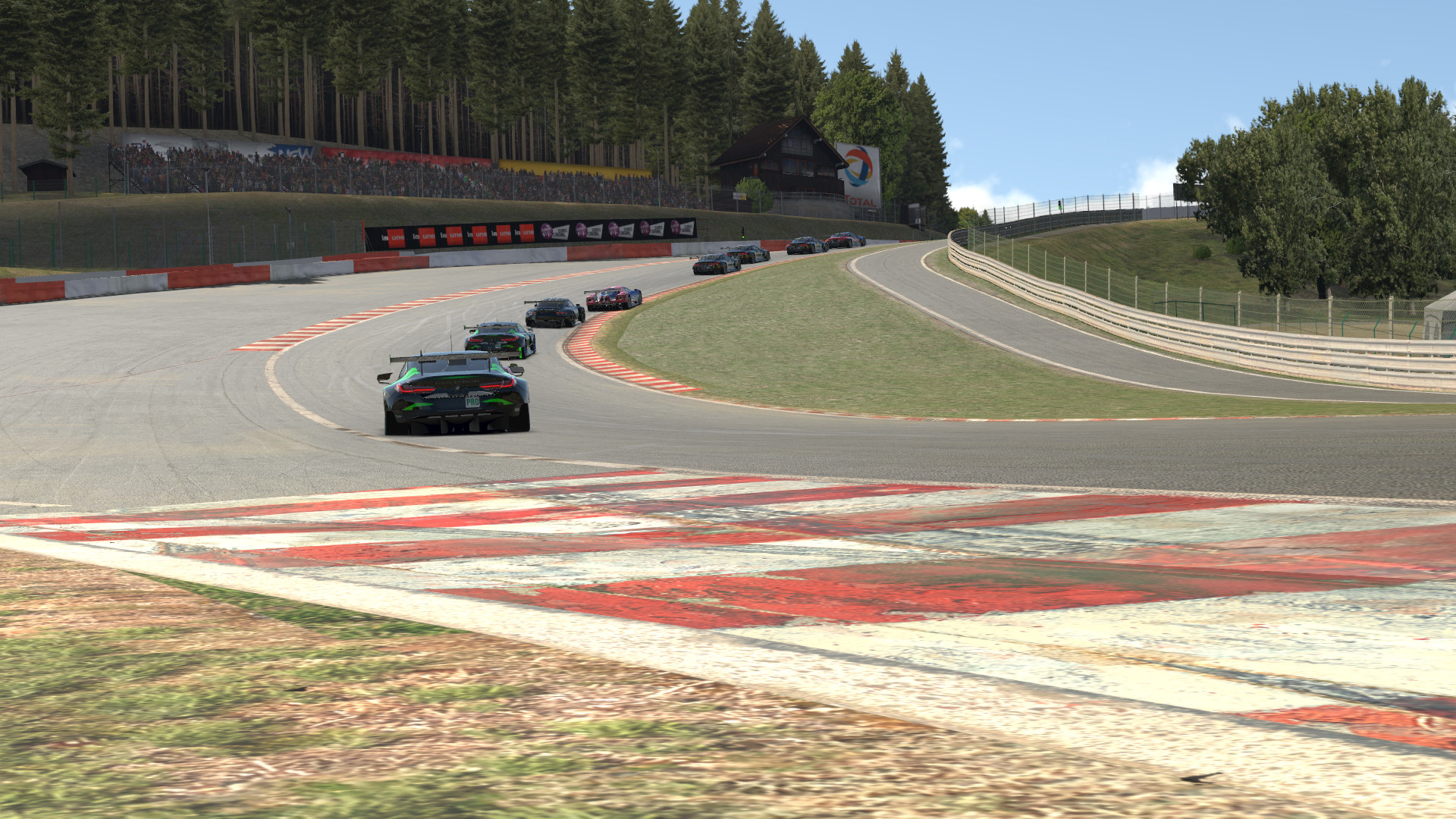 Saying this Damien Owen Harris spun out of the next left hand conrer by avoiding to take his teammate out. Another example for how tricky these GTE cars are on cold tires and more examples were yet to follow. We had 2 more almost parallel spins of Kev Copeland and John Tresidder out of Paul Frère followed by 2 more of Brandon Warren and Kevin Kittelmann out of Blanchimont. We have to say that Kittelmann's one was probably the result of his reaction to avoid Warren's car. Due to these issues Daniel Lee (started as last, due to qualifying laps invalidated for not respecting tracklimits) was able to get up from P22 to P16 in 1 Lap.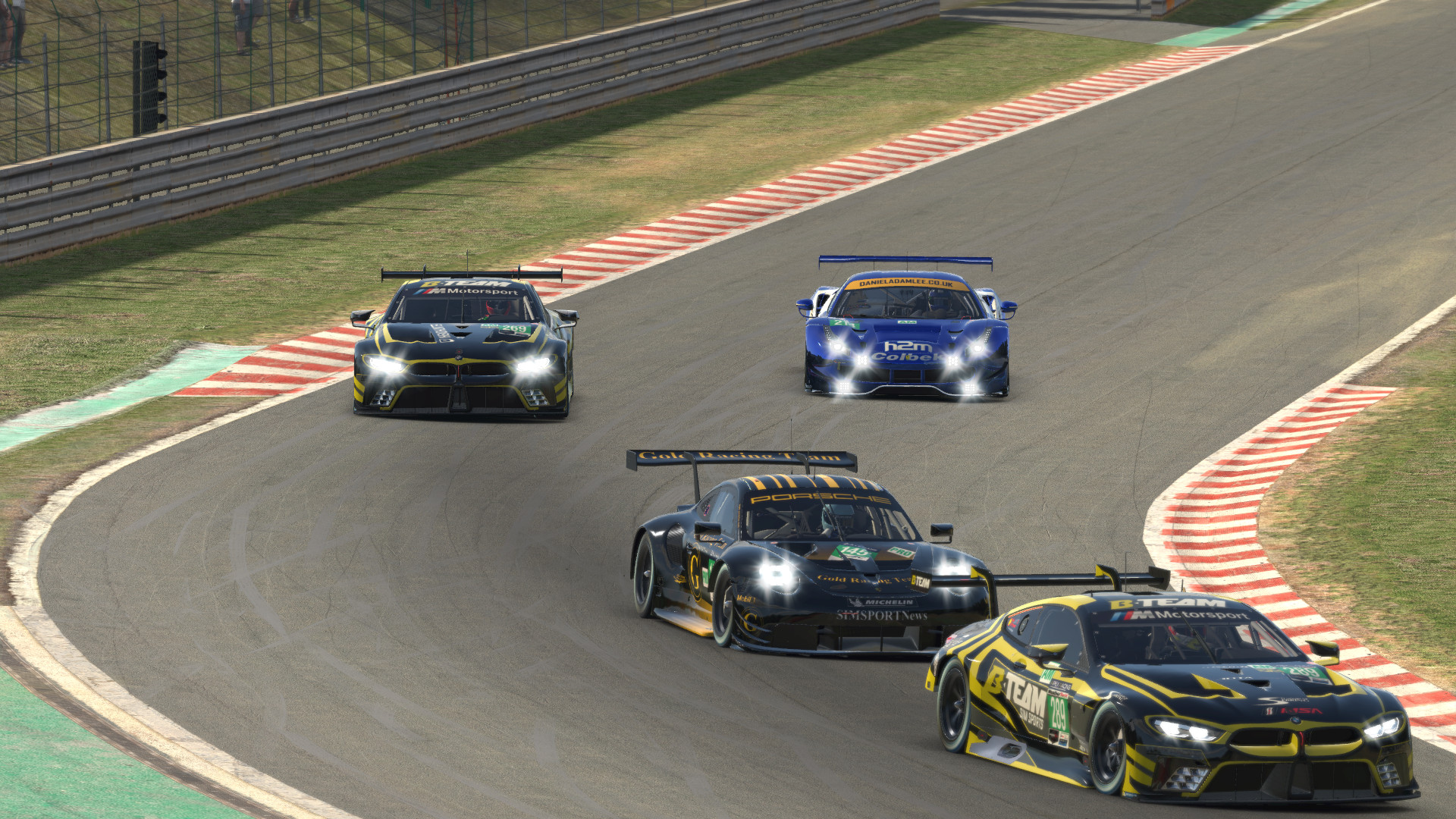 5 laps into the 1st race of the evening quite a chain built up. Only Garzotto (started P7 and fell back, due to his slow down) and Daniel Lee (even starting as last, pacewise usually top 10) were fighting their way through the field with being on P12 and P13 at this time. Andre had issues to keep the leaders pace, which is unusal, but after defending against 3 Gold Racing Team cars, he seemed to be able to open a gap to stay on P3 and after he stepped away from this battle, James Salt joined the group from the back and he only needed 2 laps to pass Brumfield and Wiesekopsieker, but then he had the defensive wall (also called Dennis Ipenburg) in front of him. He tried to pass him twice on Kemel straight, through Les Combes and into Rivage without success. Due to Ipenburg's great defensive skills Wiesekopsieker got a chance to re-overtake Sault, but unfortunately they made contact out of no name corner, which put them into the wall, but they were able to continue though. Only a lap later we saw an EvoSR double pass starting on Kemel straight and ending in Puhon with Arron Powel and James Salt overtaking Maik Wiesekopsieker.
At the checkered flag we had Tom McMahon, Tahj Edwards, Eneric Andre, Dennis Ipenburg and Steven Brumfield from P1 to P5. It was a quiet race for the top 3, but an even more exciting within the top 10. Bob Humphrey was the best AM driver on reaching P8 and Daniel Lee gained 10 positions in the end finishing on P12.
Another round where the reversed grid wheel declined to show full, so it was 13. Dean Powell will get pole position for race to with Daniel Lee, Derick Holland, James Salt and Jeffrey Garzotto behind him. The clean start of race 1 wasn't repeated. Dean Powell had braking issues into La Source, which kept the field close together through Eau Rouge and onto Kemel straight. James Salt came flying from P4 to be P1 exiting Les combes followed Lee and Powell. Behind them it started to get hectic: Bob Humphrey made contact with Derick Holland entering Les Combes and Jeffrey Garzotto lost the car on cold tires in Rivage. He had no luck in the first laps this meeting. Only a few corners later Dennis Ipenburg lost his car in Puhon and made a victim (of course without any purpose) out of Tom McMahon, who had nowhere to go, so the the race 1 winner's race 2 was ended quite quickly.
The opening laps stayed eventful. It's always noticible that the pace differences caused by the reversed grid need to get sorted out, so we saw Tahj Edwards and Eneric Andre already on P5 and P6 after 3 laps. The top 3 were closer this race too, because we had a great 3 car battle between Salt, Lee and Wieskopsieker and it was nice to also see 3 different cars (Ford, Ferrari, and BMW) battleing against each other. 16 Minutes after the lights went out the 3 car battle at the front turned into a 4 car battle with Brumfield arriving and overtaking Lee immediatley. Further down in the midfield we could see a nice group of cars with Kittelmann, Saul, Ipenburg, Holland and Aarron Powell. Only 3 laps later we had some changes at the front. Wiesekopsieker (who started opening a gap to Sault on P2) lost the control of his car in the last chicane and dropped back to P5. Meanwhile Sault and Brumfield were in a close battle for P1 and Lee and to defend against Edwards, who wanted to take P3. Eneric Andre had to retire, due to technical issues ealrier in the race.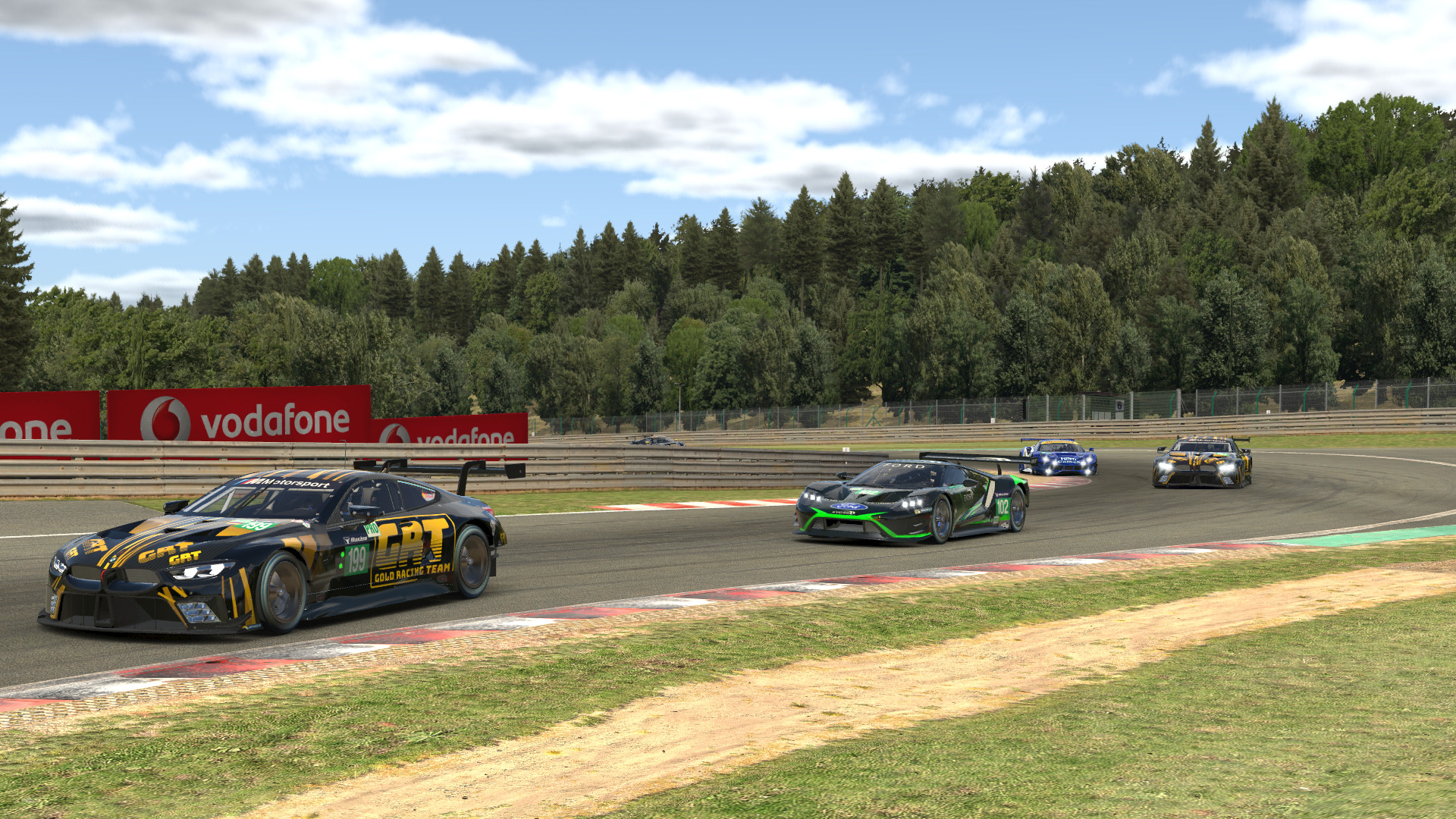 Starting the last 10 minutes the top were still in an exciting fight for P1 and Wiesekopsieker closed the gap to Edwards and Lee, so we had 3 cars fighting for the last podium spot. In the end James Salt could step on the highest podium step with another Ford win. Steven Brumfield finshed on 2nd place a great drive. He tried to pass Salt many times and although Salt had the better end, Brumfield showed some great racecraft. Tahj Edwards took the last podium spot by being able to pull away from Lee and Wiesekopsieker, who were fighting for P4 until the checkered flag. Daniel Lee took the advantage over Wiesekopsieker with gaining this 4th position and in addition to that, he was the highest AM finisher.
The 8th and last round will be held on the legendary Circuit des 24 heures du Mans. It should be a different race compared to the previous ones, because with the endless straights the drivers have to be smart and patient in overtaking and additionally they need to setup the car as fast as possible, but they still have to remember that there are still some corners left on the track. Although the overall champion named Eneric Andre is alredy crowned (congratulations / félicitations for the great season), we're looking forward to an exciting last round as they are still some championship decions yet to make.