ARL - GT Championship S1/R5 - Silverstone
Round 5 of ARL GT Championship took place in the well known Home of Britsh Motor Racing: Silverstone. The fast and challenging Grand Prix layout should bring the drivers to their limits as we'll see later.
Starting with the qualifying we had Sattelite Racing's Eneric Andre (the championship leader) and his teammate Nick Rowland in the front row. Andre took pole over Rowland by only 0.050 seconds. Daniel Lee took the AM category pole on start position 3 and Tahj Edwars and Maik Wiesekopsieker round out the top 5. Djawad Karoni, second in the champoinship, only got P8.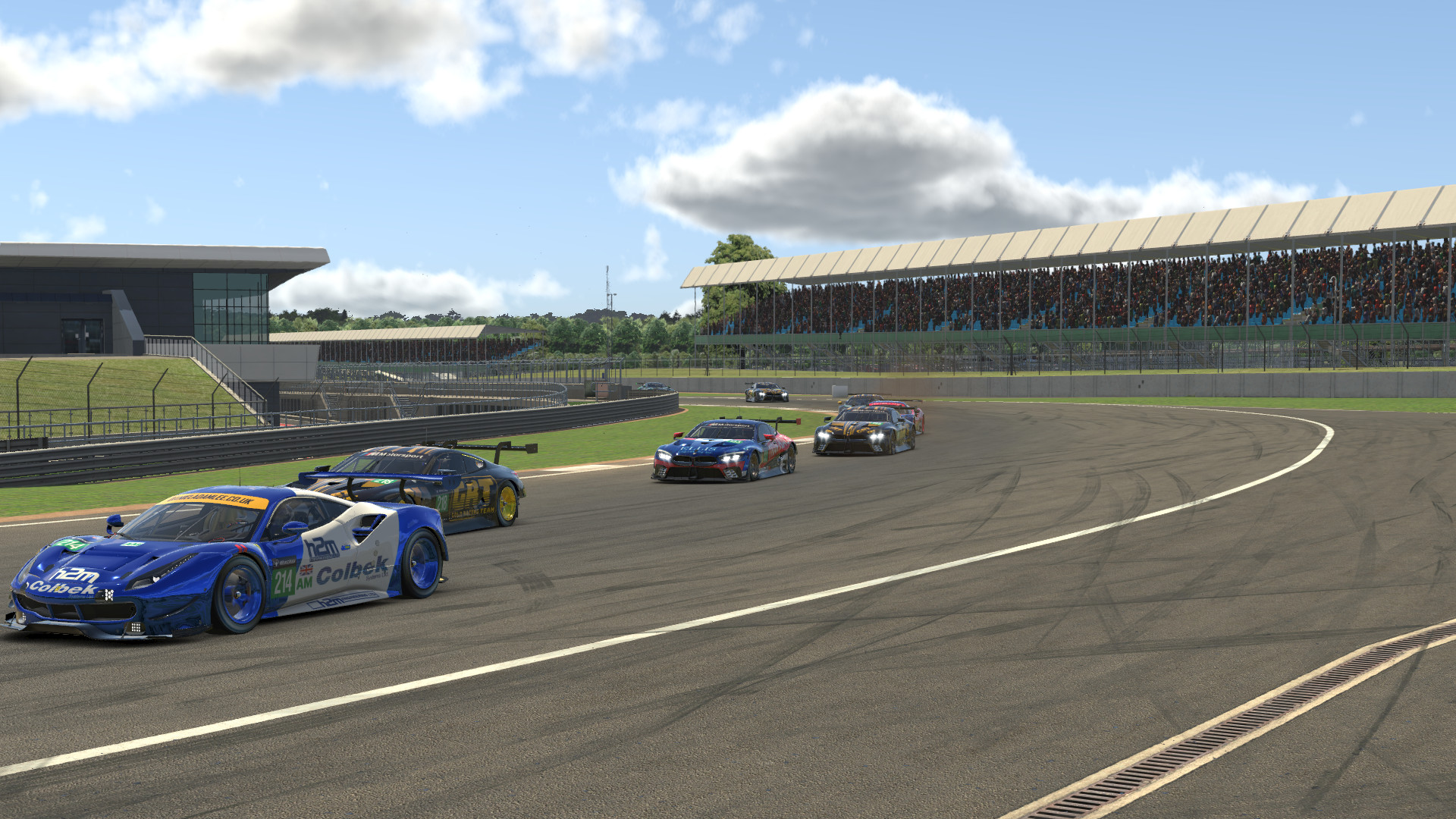 Eneric Andre had everything under control at the start and kept Nick Rowland behind him. Tahj Edwards passed Daniel Lee and Djawad Karoni made contact with Dion Phillips coming out of Farm Curve which lead to Phillips retiring and Karoni falling down to P20. At the exit of the Loop Dennis Ipenburg and Jeffrey Garzotto (Gold Racing Team and Gold Racing Team blue) had an incident putting them at the very end of the field. These incidents might be caused by having the new tire model for the GTEs, so the drivers still have to get used to get heat into the tires.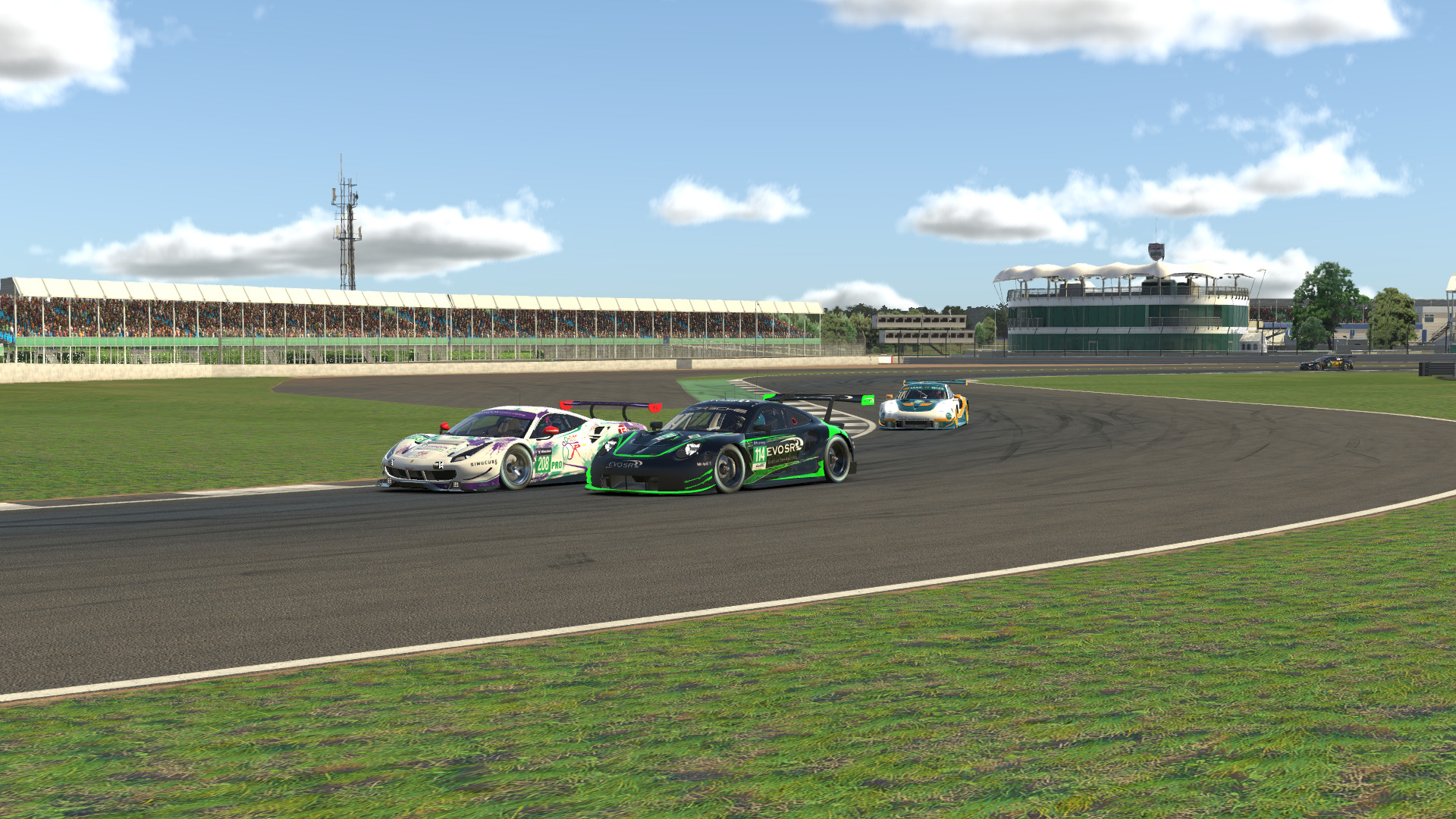 By the time he started lap 2 Karoni had already fought back 6 positions to P14 and Lewis Bibby (started on P26) found himself on P17 at the end of lap 2 – great gains right at the beginning. Already in the stages in the race the track showed his challening sides with having 2 self spins in Lap 4. But of course there was also great side by side racing going between Craig Jones and Lewis Bibby through Brooklands, Luffield and Woodcote or a 3 car battle between Gordon, Harris and Humphrey.
In the second half of the race the track made more victims by seeing a few more unforced errors and after 25 minutes we had Eneric Andre winning the race from pole with Nick Rowland on P2, who had to defend the whole race against Tahj Edwards, who finished on P3 with a gap of only 0.6 seconds. Am class winner was John Gordon coming in on P5
The reversed grid for the 2nd race was 13, so we had Ronald Moons, Tom Stevens, Dennis Ipenburg, Lewis Bibby and Aarron Powel starting in the top 5. Bibby, who had a great recovery drive in the first race, was in a good position for a victory in race 2, if he can keep his performance.
Ronald Moons led the field onto the start/finish straight to start the 40 minutes long race 2 being a bit hesitant opening the race. This gave him a small gap into turns 1-3, where his opponents entered turn 4-wide in 2 rows. It was a surprise that there weren't any crashes in these turns. A big WELL DONE to everybody! Moons' lead, unfortunately for him, didn't last long, because at the end of lap 1 Bibby was in front coming from P4. The first laps issues regarding the tire temperatures were still present entering lap 2, so John Gordon went wide out of turn 2 and was a passenger from then on, which was unfortunate for Tom Stevens since he got caught by Gordon's car. On lap 6 Eneric Andre (race 1 winner), who already arrived on P5 starting on P13 tried to make a difficult move on Aarron Powel around the outside in Stowe corner, which didn't end well for both – Andre fell back to P7 and Powell P9.
15 minutes into race 3, the Top 3 (Bibby, Ipenburg and Karoni) were within 1.5 seconds and already had a 9 seconds gap on P4. After half of distance was reached Andre was already back in P4 with Tahj Edwards behind him. So race 1's winner and P3 were back in the top 5. Nick Rowland was missing, although he was right behind Andre but he had to stop for fuel. We assume he only had fuel for the distance of race 1, because he pitted right before the 25 minutes mark. Unfortunate for him and it shows how much attention drivers have to pay going from race 1 to race 2.
From lap 14 we saw a nice battle between Moons and Powell, which developed to a four car battle, when Lee and Brumfield joined. This fight lasted for 2 laps and showed a great respectful racing with the worst outcome for Moons, who dropped form P9 to P12.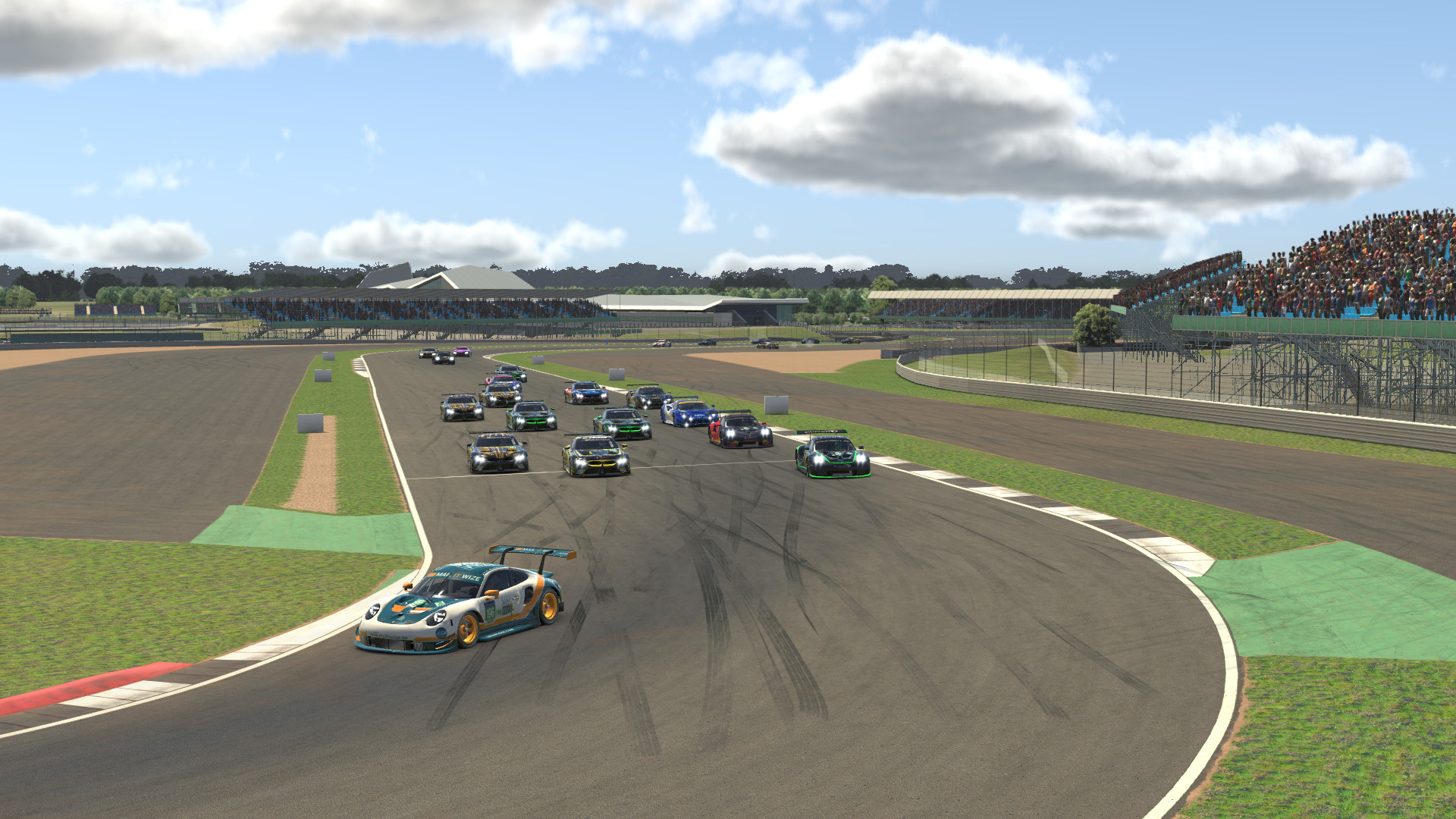 Karoni bounced off the defensive wall named Dennis Ipenburg (who defended P2 for the whole race) forcing Karoni into an error 5 Minutes from the end. Karoni was driving really hard to try to get by Ipenburg, but in the end Karoni had a half spin in Vale, which didn't make him lose positions, but a lot of time on Ipenburg. After 40 minutes of racing Lewis Bibby secured the victory with a great drive and Dennis Ipenburg did as well with defending P2 against Djawad Karoni (who finished in P3) for almost the whole race. AM class race win goes to Bob Humphrey finishing on P8.
Round 6 will be held on April 12th on another iconic track: the green hell, Nürburgring.