ARL GT Championship | Round 1 at Road America
A brand-new season of the Apex Racing League (ARL) GT championship roared into action on Sunday, at Road America. Returning for a third season, a packed grid of thoroughbred GTE cars assembled to compete, following a brief summer break.
Variety is a major calling card for GT racing. ARL GT drivers are spoilt for choice with four cars to pick from.  Wailing Porsche 911 RSRs, exotic Ferrari 488 GTEs, low slung Ford GTs and bruising BMW M8s – the ARL GT championship welcomes them all.
A staple of the IMSA Weathertech Sports Car Championship, Road America provided the perfect setting to kick start a new season. Opened in 1955, Road America is the only track in the USA that retains its original layout. Therefore, drivers would take on the same terrain as Phil Hill when he won the inaugural race at Road America, in a Ferrari Monza.
With just ten minutes and four flying laps of the Road America circuit, drivers had to make the most of their time on circuit to claim crucial track position for race one. Swede, Jonas Bodin, took pole position by a convincing 0.270 of a second. However, joining Bodin on the front row would be defending champion, Tom McMahon. Emil Winbo was the fastest of the AM class drivers, qualifying in fourth overall, claiming several PRO class scalps in the process.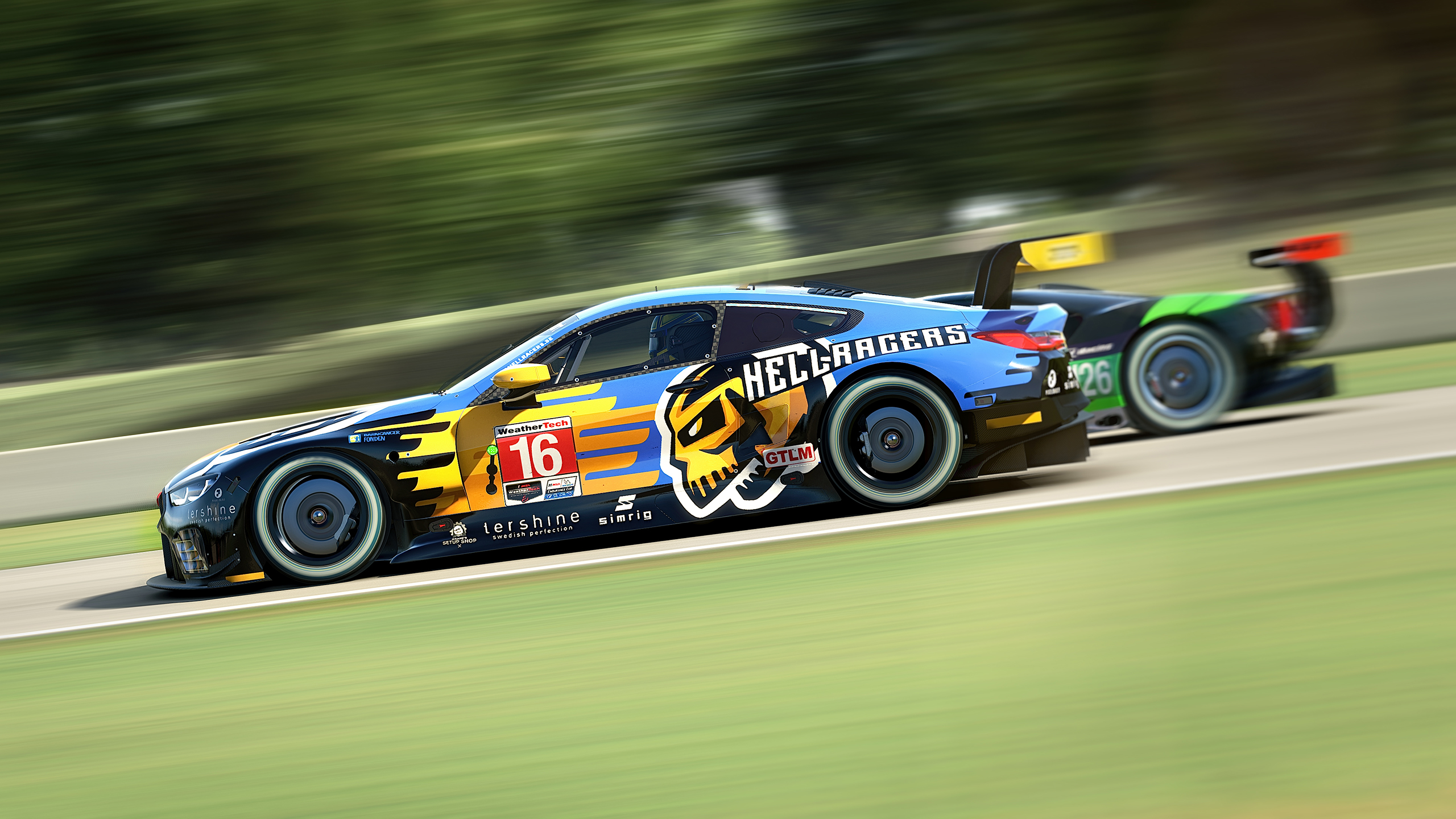 After a clean start, disaster struck towards the end of lap one for Emil Winbo. After a giant killing performance in qualifying, the Swede found himself in the wall at Kettle Bottoms.
In the opening twenty-five-minute sprint, Jonas Bodin took his Hellracers BMW to a flawless victory. Defending champion, Tom McMahon, could only manage second in his Ford. Twelve seconds down the road was Daniel Lee, who finished third in his BMW M8.
Race two would present a sterner mental challenge for the drivers. Forty minutes around a track with little room for error, a daunting prospect indeed. In addition to this, the finishing order from race one would be jumbled as part of the infamous reverse grid procedure. For the championship contenders, patience would be a valuable attribute when tip toeing through the pack.
On the exit of turn two, heading under the Briggs and Stratton bridge, anarchy ensued. With precious little room between the track and the concrete wall, a solitary spin descended into a multi-car scrum in a flash. For race one winner, Jonas Bodin, entering turn three with his BMW's Michelin tyres pointing skyward, surely wasn't in the game plan. McMahon faired little better, dropping down the order due to the incident. Bodin would finish nineteenth. McMahon struggled to fifteenth. An opportunity for others to make ground on the early pacesetters.
Dane, Mads Gravsen, led until half distance in his Porsche until yielding to his teammate, Artur Gozdzik. Chris van de Nesse followed closely behind, spoiling the Porsche party in his BMW M8. However, it would be Gravsen that the Dutchman would square up to. The resulting brawl allowing Gozdik to escape. An audacious attempt to pass around the outside at the infamous kink, left van de Nesse broadside across the track and out of the podium battle.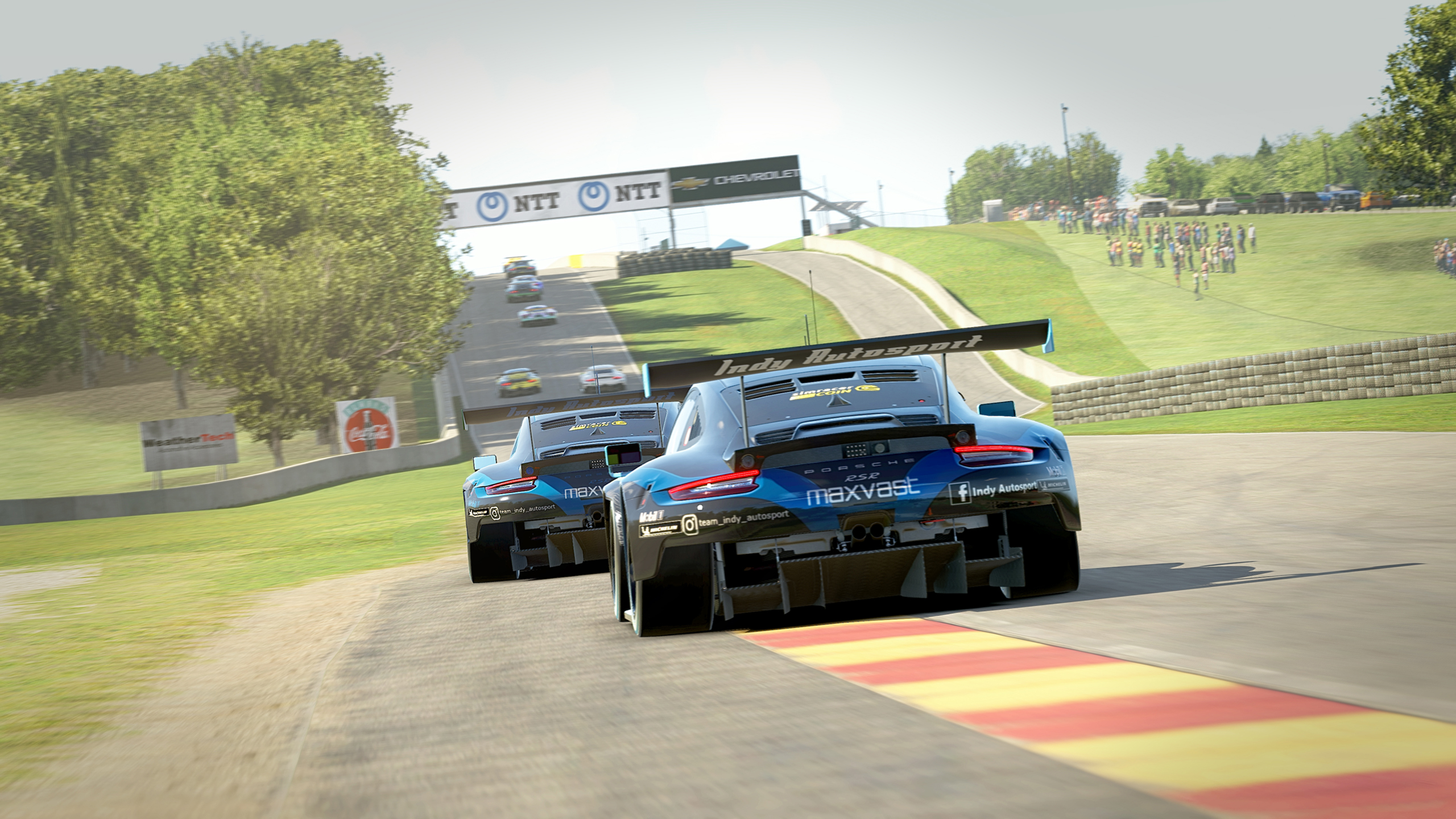 Race one podium finisher, Daniel Lee, charged through the pack to fifth place. However, on the final lap, a mistake on the brakes entering turn six left the BMW man reeling over what could've been. Nevertheless, a seventh-place finish with championship rivals in trouble, certainly far from a disaster for the Briton.
In the end it would be a dream day for Weissach with a Porsche one-two finish. Artur Gozdzik took the chequered flag from teammate, Mads Gravsen. Calum Wright claimed the final spot on the podium in his twin turbo, Ford GT. AM class honours went to MsignsUK.com driver, Dean Powell.
Following the race, Mads Gravsen confirmed that the team dynamic contributed to his battle for the lead with Fuga Simsport stablemate, Artur Gozdzik: "Obviously, he's your teammate so you're not going to race him like a competitor, or at least as hard. I did tell him, when I gathered that he was faster, to pass somewhere sensible."
Race winner, Artur Gozdzik, beamed after claiming his maiden victory of the season: "I started P2 behind Mads and chased him for half the race. Then I made my move to overtake but his pace was very good. I could see in my mirror that he was battling van der Nesse" explained the Pole.
Hard charger, Daniel Lee, remained upbeat about his performance: "That was an amazing first round. I was so impressed with the driving of all the new guys. You're going to see some close and compressed fields. I'm really looking forward to the rest of the rounds."
On the 23rd of August, the ARL GT championship heads to the historic Monza Circuit, in Italy. Artur Gozdzik will head into round two as the early PRO championship leader. Dean Powell leads in the AM class.
Tune in to live coverage on Apex Racing TV at 8pm BST.