Apex Racing Academy GT4 VRS Super Series | Round 1 at Watkins Glen
A new era began at Watkins Glen – in many different ways – for Apex Racing UK, as the relaunched Academy burst back onto the scene in style with the GT4 VRS Super Series.
Heat racing, Academy members and the new BMW M4 GT4 made this an extremely special occasion with the drivers delivering in spades. 
This is how the format for the meeting would take place:  Ten minutes of closed qualifying would take place, with the drivers split into two heat races based on their grid position.  The odd-numbered and even-numbered drivers will then compete in their own individual races, with 16 drivers from each going through into the final feature race.  The remaining drivers will be given another chance in a consolation race, in which 10 drivers will be successful in reaching the feature race.
The Feature Race itself will have a number of drivers reversed to add to the drama.  Sacha Gorle of Belgium would be starting on pole for the inaugural heat race, with Britain's Jacob Tofts alongside him; the Porsche Caymans looking fast despite having 25kg of ballast added by the race organisers.  Adrian Campfield was the highest AM starter, and he would be going from 4th on the grid.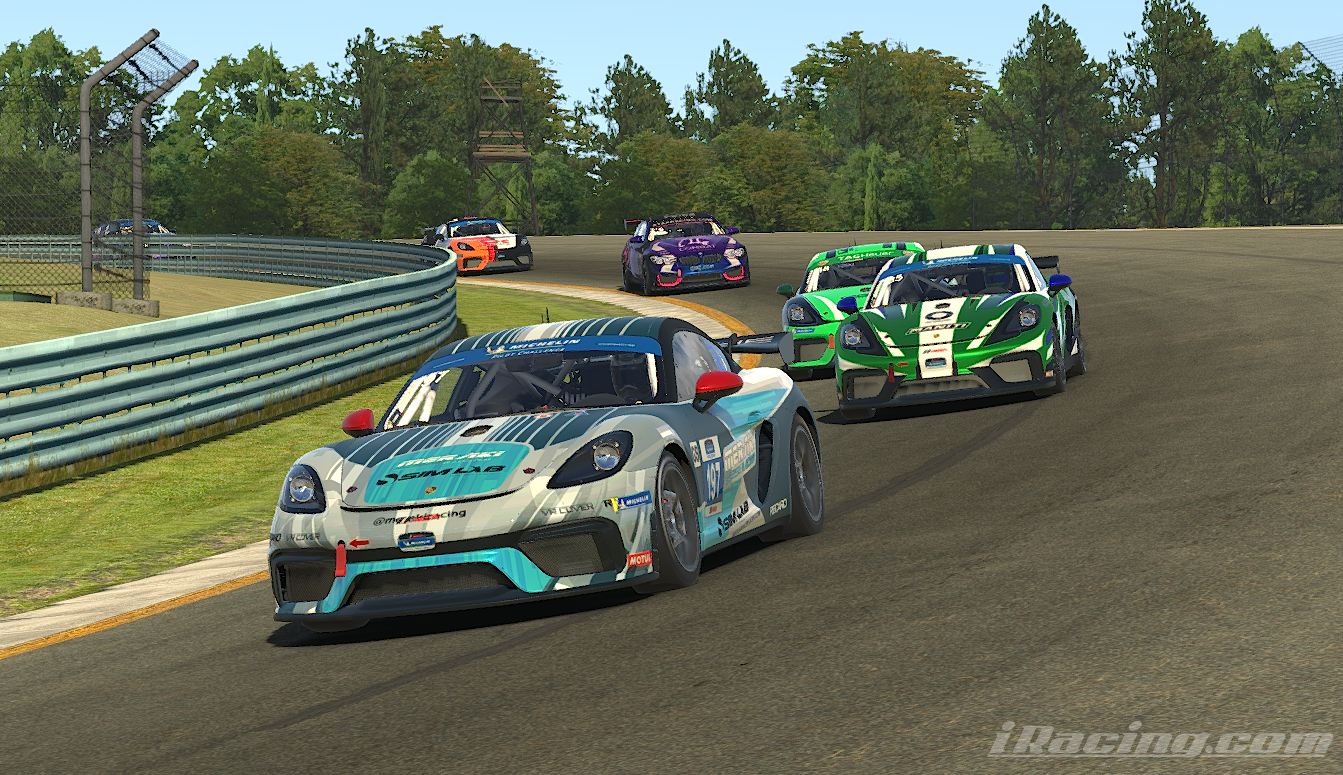 To the start of Heat 1, a start which was received with some apprehension by Adam Bath and Alex Simpson in the Apex Racing TV commentary box, given the previous history of accidents in the trouble spot that is the Esses. It was not long ago of course that a recent GT race on the channel had resulted in three consecutive safety cars after major pile-ups.
It transpired that it was all very clean indeed to the delight and surprise of Alex and Adam.  Thankfully from the point of view of Sacha Gorle, he got a terrific jump at the lights and stayed ahead, with Spain's Isaac Jaen battling with Jacob Tofts.  It did not go well for Tofts however, clipping the grass on the exit of the Boot section and having to pit after damaging the rear of the car.
With the demise of Tofts, there were now four BMWs in the top five places, Gorle straining every sinew to try to get a gap over the chasing pack, weaving on the straights to try to break the tow.  Campfield was a beneficiary of Tofts' misfortunes, and he was up to third, battling with Philip Johansson of Sweden, with the latter having a look into the bus stop that was easily covered.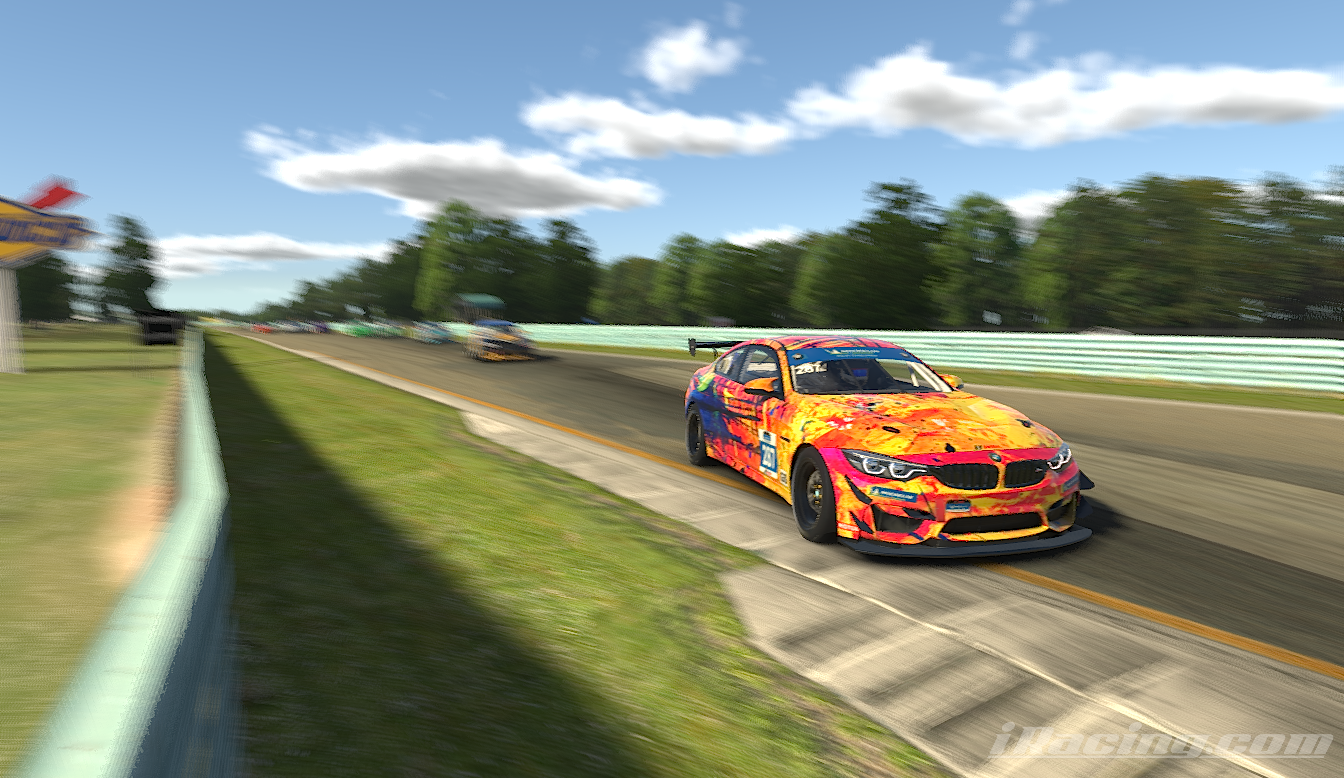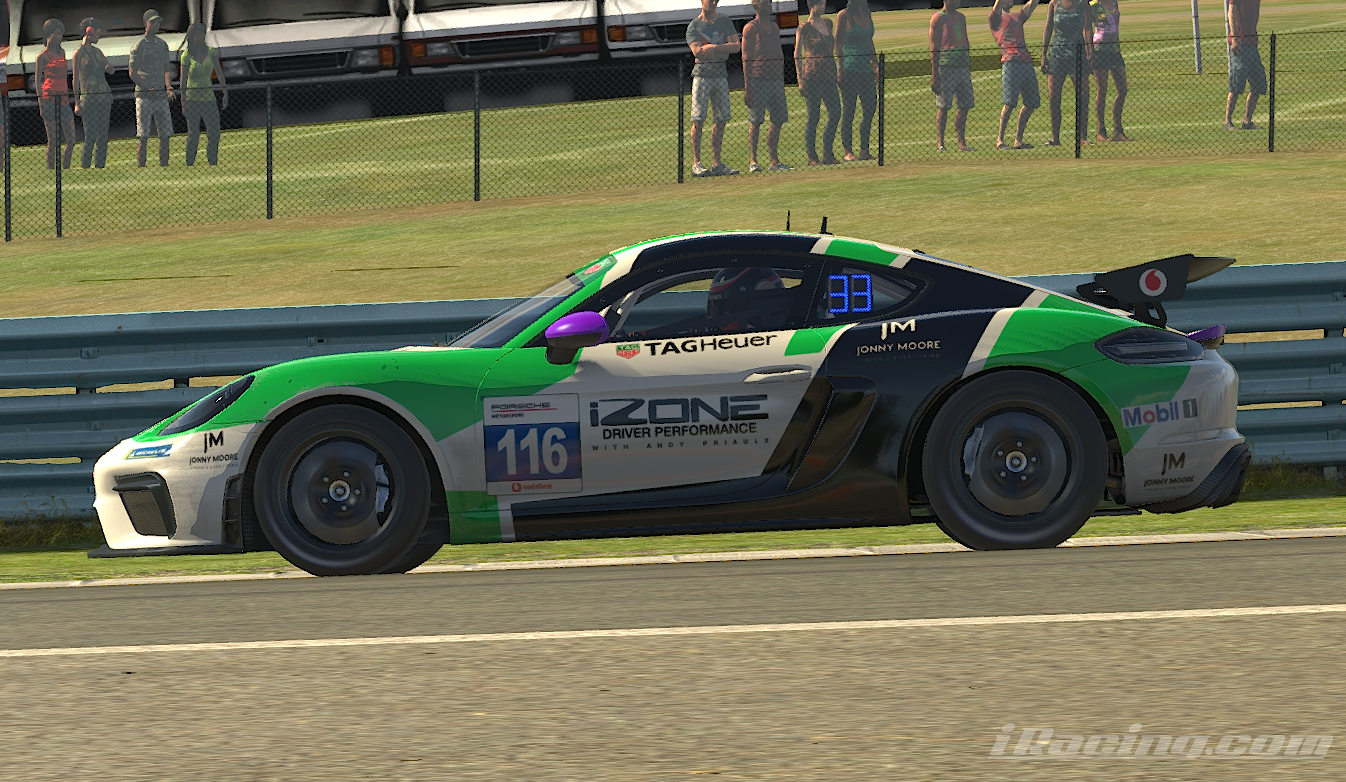 ARL GT star Jentsen Adriaenssens was fighting hard with part-time ARLTC competitor Jose Malbran just outside the top 10.  Mark Heron was awarded a drive-through penalty, one of the first drivers to fall foul of our live stewarding team! Moments later, just after the 10-minute mark, Lewis Ward moved up into the top 5 with a move on Lucas Biron of Canada.  
The battle for the bubbly was heating up, with Campfield diving up the inside of Jaen and up into second place, before then having to defend hard into the bus stop as the slipstreaming battle intensified.
Jose Malbran made a fantastic move around the outside of Martin Potocnik, who was boasting a Driver Cam for this one.
Gorle cruised to victory in the end, with Campfield and Jaen on the podium.  It was all about the battle for the top 16 at the line, as Paul Clist ended up taking the last guaranteed spot in the Feature Race.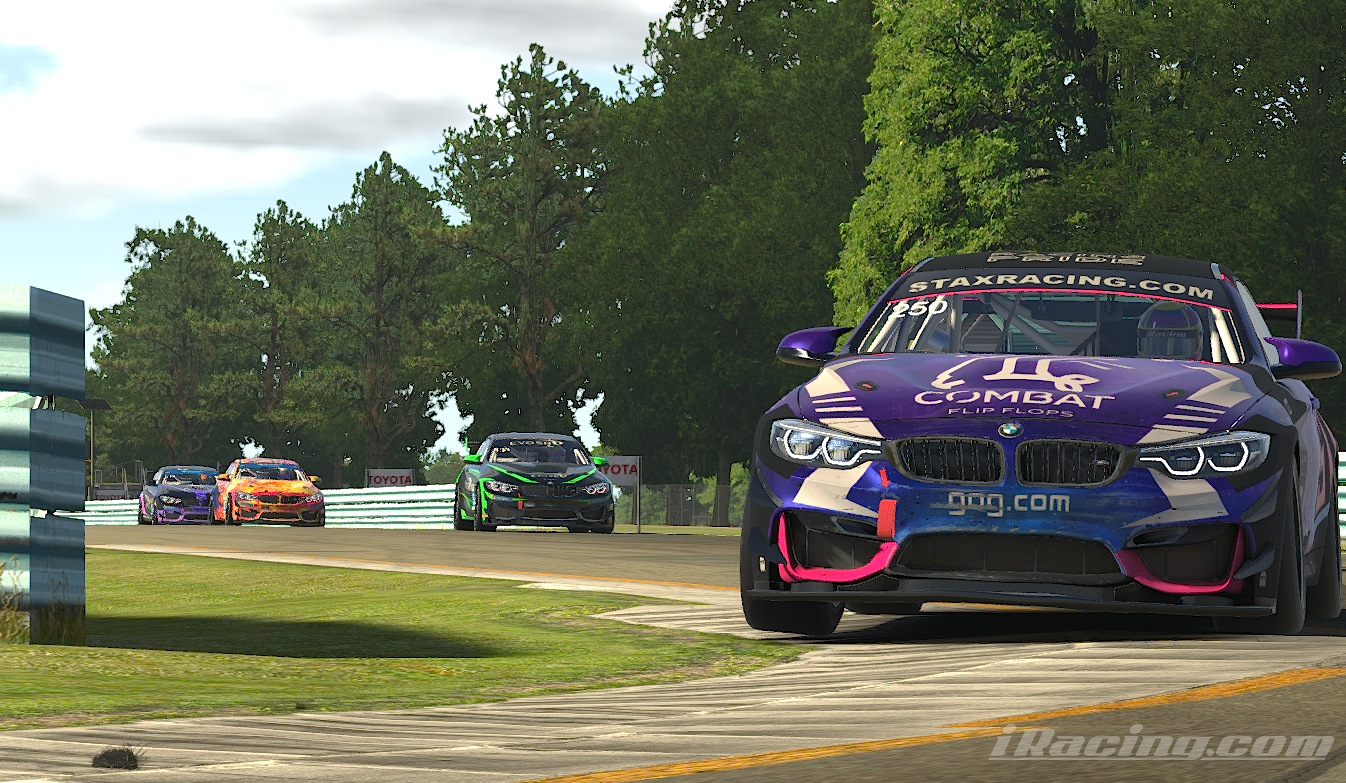 On to Heat 2 then and it was Germany's Mortiz Lohner on pole ahead of Dutchman Jacky Lotterman, with two further Germans; Marcel Erang and AM driver Matthias Beer in 3rd and 4th.
Shock and awe was apparent once more soon after as the Esses were negotiated successfully by all with the top three unchanged.  Adam Tomkins got ahead of Beer into 4th, with former ARLTC AM Champion Ben Gregory in 6th (he won that on a controller don't you know).  Gregory would make light work of Beer, who may have had a plan brewing.
Lotterman was giving Lohner a lot to think about, showing his nose into the bus stop and very nearly collecting him further round the lap.  He would go for the lead on lap 5 with a brilliant move in the bus stop; with great driving on display as they were inches from disaster.  Of course, as Alex Simpson said on commentary, "you have to make it to the feature guys!"
Tucker Martin and Daniel Antunez were the occupants of the important 15th and 16th places, with a comfortable gap to Holzer in 17th.
The action heated up once again as Lohner got the lead back with less than five minutes remaining and Lotterman followed it up with another move on the final lap.
There was drama in the top 10 however, as Edgar and Seger crashed on the back straight, giving Benoit Holzer a pass through to the Feature Race, one which he will be very happy with indeed.
We were then set for the first ever Consolation Race.  17 cars started, with 10 of them making it through to the Feature.  This was shaping up to be very tasty.  Among them were two-time ARLTC Champion Kip Stephens and Jacob Tofts who of course was battling in the top 3 in the first heat before his spin.  
Nick Dors lead away from the rolling start, with the blinking Bradley Hulse in second ahead of the Austrian Wolfgang Loder and Anders Hoyland of Denmark.  For the first time in the meeting there was carnage on lap 1.  Hoyland spun in the first corner, before a second accident claimed Carl Jacolette and Stefan Calbrecht.  The advice for the drivers was very much to go on if you can, because even scraping into the top 10 with a damaged car would allow you to progress.
Tofts was already up to 4th after an impressive start, however there was more misery for Edgar as he ended up in the gravel at the bus stop chicane.  Tofts then claimed 3rd from Loder, up 14 places from his grid spot on just the first lap.  Loder went off in the penultimate corner and he was down to 11th, mysteriously not managing to get back up to racing speed quickly.
Bradley Hulse and his magical vanishing car took the lead from Dors, and the Dutchman was down to 3rd soon after Tofts made his move.
Denisov battled hard with Reski as we reminisced over our crushing Le Mans 24hr victory over the Apex Racing TV team. 
Ollie Bultynck and ARLTC driver Scotty Angelo were also nicely inside the top 6 as Tofts set a lap 1.6 seconds quicker than the leader Hulse. Now he was sat behind a car with connection issues, and he seized on a mistake from Hulse to take the lead after three-quarter time. Scotsman Mark Heron got ahead of Angelo soon after, with Andy Derrick going through on Denisov for 5th.
There was late action as Dors, Derrick, Denisov and Heron battled, with Russian dropping down to 11th in the end after contact with Heron.  This salvaged things for Edgar, who squeezed into the Feature Race in 10th despite his woes early on.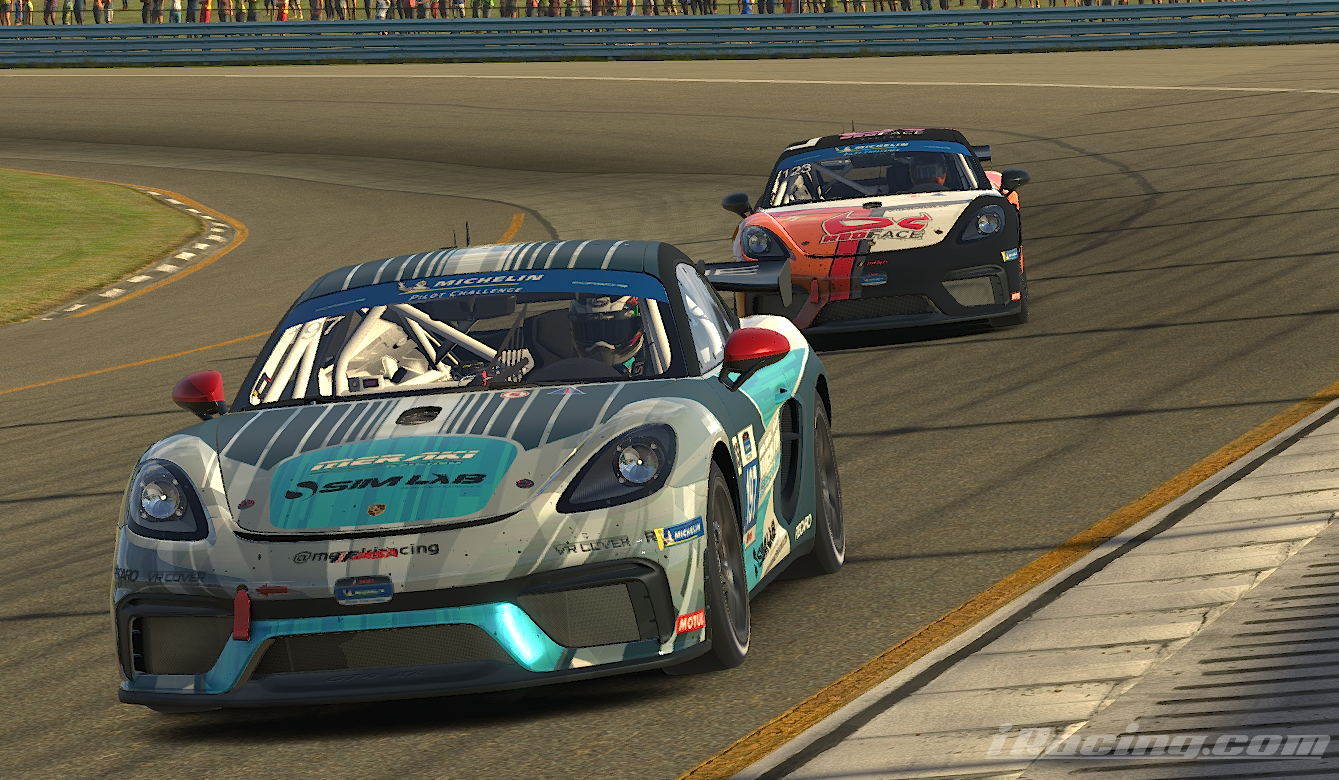 After a brief warmup, the Feature Race got underway, with the best of the best set to fight for the first ever win in the VRS Super Series.
There was also the small matter of the reverse grid coming into play, with 10 car swapped around from their heat finishing positions.  This meant Heat winners Gorle and Lotterman started 10th and 9th respectively, with pole position going to Matthias Beer ahead of Lewis Ward.
Green flag and it was a fantastic start from Philip Johansson, getting up into 2nd, while there was disaster for Lohner as he was hit across the bus stop on lap 1 – the replay showing that Lotterman was his assailant.  Marcel Erang's race also started terribly when he crashed coming out of the Chute.
Johansson was on a tear, taking the lead on the second lap while Lewis Ward made a great outside move on Beer to take 2nd.  Porsche vs BMW for the lead then as Ward tailed his Swedish opponent.  Three cars went off at the tight left hander, Silcock getting tagged by Lotterman again who was not having a good time of it.  SDK Gaming provided a chance to get a live look at Potocnik as he battled away with Biron and Gomez, while Gorle and Tomkins had a collision sending Tomkins down and out of the top 20.
Lap 4 and Ward was starting to look a bit racier behind Johansson, because he knew now that there were five drivers lurking behind him.  Jacob Tofts was up to 16th from 33rd on the grid, and we got a great onboard look as he demoted Belgium's Lukas David to 16th.  Tofts slalommed his way through the midfield as Lewis Ward took the lead in fantastic style around the outside on the infield.
Sacha Gorle was making his way though, and he was putting a lot of pressure on Campfield who was up in a brilliant 3rd.  At this point the top 7 were covered by just 2.4 seconds, and something had to give with Campfield diving through on Johansson and Gorle being denied by the Swede into the bus stop.  Gorle suffered a slow down after ever so slightly cutting the chicane; he would now have to do it all again from 7th.
At the halfway mark he had worked his way back up to 5th, dispatching first Jaen then Beer.  He was only 3 seconds off the lead, and was beginning to sense that he still had a chance at the win.
Campfield and Johansson continued their scrap, allowing Ward to get a 2 second lead in the process.  Gorle set about ARLTC star Damien Harris, but both men would be through after the two ahead collided; Johansson going over the chicane. 
Tofts' progress was halted abruptly soon after, as he tried an ambitious move in not a lot of space, resulting in him dropping down from what was 8th all the way down to 18th.
Gorle passed Harris in T1 and set off after Campfield, a move which he would then complete at the Bus Stop, going through neatly on the inside to take 2nd.
A break from the front battle as a fantastic duel between Tobias Berka and Alvar Gomez was taking place – currently for 11th and 12th, however they would finish 9th and 10th in the end.
Four minutes remained and Sacha Gorle was now turning the screw, one second a lap quicker than Ward who had driven an impeccable race to that point.  Gorle got a fantastic exit in Turn 1 and Ward seemingly just allowed the Belgian through, evidently choosing to think about the championship and claim 2nd place. So Gorle won the day after what was a fantastic debut for the VRS Super Series.
Adrian Campfield won the AM category, although his hopes of another podium were dashed by Damien Harris who got through on the final lap after a very nicely driven meeting by both.
The series now hops back across the pond to Silverstone in the United Kingdom for Round 2, and we're sure that the home of British Motorsport is going to serve up a cracker.