Aliu bounces back in Barcelona!
iRacing Apex Racing League GT Trophy R6 Catalunya
The Apex Racing League GT Trophy paddock arrived at the Circuit de Barcelona Catalunya for the penultimate round of the inaugural season. Nestled beside the village of Montmelo on the outskirts of the Catalan city, this modern venue hosts annual grand prix on 2 and 4 wheels.
In the ARL GT trophy, a packed grid of exotica from manufacturers like Lamborghini, Ferrari, Porsche and BMW are separated into four classes: GT3 PRO, GT3 AM, GT4 PRO and GT4 AM. Classes are defined on choice of vehicle and driver ranking.
At the pinnacle of the field, Gaetan Anger has romped into a commanding lead in the GT3 PRO championship. Continuing his dominance, the Frenchman blazed to pole position by half a second from Jonathan Poulet. Anger's closest championship challenger, Nick Madsen, started from the second row.
Fully aware of the necessity to pressure Anger, Madsen rushed past Poulet into turn one. However, Anger was at his relentless best. Churning out one hot lap after another, Anger sped to a dominant victory in his Lamborghini Huracan GT3 Evo. The French star heads to the final round at Watkins Glen with a near unassailable lead in the championship.
Initially, GT3 AM appeared to follow a similar pattern to the PRO class. Polesitter, Julian Martinsen, looked comfortable in the lead for most of the race. However, a late race charge from Tony Dougan spoiled Martinsen's party. With five minutes to go, Martinsen and Dougan locked into a fierce battle which dramatically slowed their pace. Aaron Smith and championship leader Tom Bigham spotted their opportunity and created a four-car dice for the win on the final lap.
With Martinsen still leading, the battle erupted at the Seat hairpin. Controversial contact from the nose of Tony Dougan's Lamborghini sent Martinsen into a spin and snatching Smith in the process. Dougan carried on and clinched a contentious victory, with a grinning Tom Bingham following behind in second. This dramatic incident may prove pivotal in the outcome of the GT3 AM championship.
In the GT4 ranks, Mergim Aliu and Hristo Ublev have sparred for honours all season long in their Porsche Caymans. Heading into the penultimate round in Catalunya, Ublev held the advantage in the points. Aliu arrived with a score to settle.
Marking his intent, Aliu outpaced Ublev by four tenths of a second for pole position. Throughout the opening stint, Aliu and Ublev covered each other's wheel tracks. Heading into the pit stops, all signals pointed to another grandstand finish between the bitter rivals. However, in the furore of the pit cycle, Aliu deployed superior pace and sped to a ten second victory by the flag.
Although Ublev came home in second place, the Bulgarian star's lead over Aliu eroded to just three points. A winner takes all showdown at Watkins Glen is one not to be missed.
Throughout the season, GT4 AM star Daniel Markov has punched well above his weight. Markov can often be found causing a nuisance in the GT4 PRO class podium fight. Therefore, the Porsche ace enjoys a significant championship lead with two rounds to go.
However, the return of Mihail Velikov threatened to unseat Markov as the king of GT4 AM. Leading from pole position, Velikov's threat looked ominous for Markov in the early stages of the race. Around half race distance, Velikov and Markov engaged in a vicious battle. Eventually, Velikov came off second best from contact in the stadium section. Unperturbed by the clash, Markov forged ahead and looked odds on to claim a pivotal class win.
However, a bizarre turn of fortunes stumped Markov's challenge. An unexplained retirement with twenty-five minutes to go left fans and competitors puzzled at Markov's demise.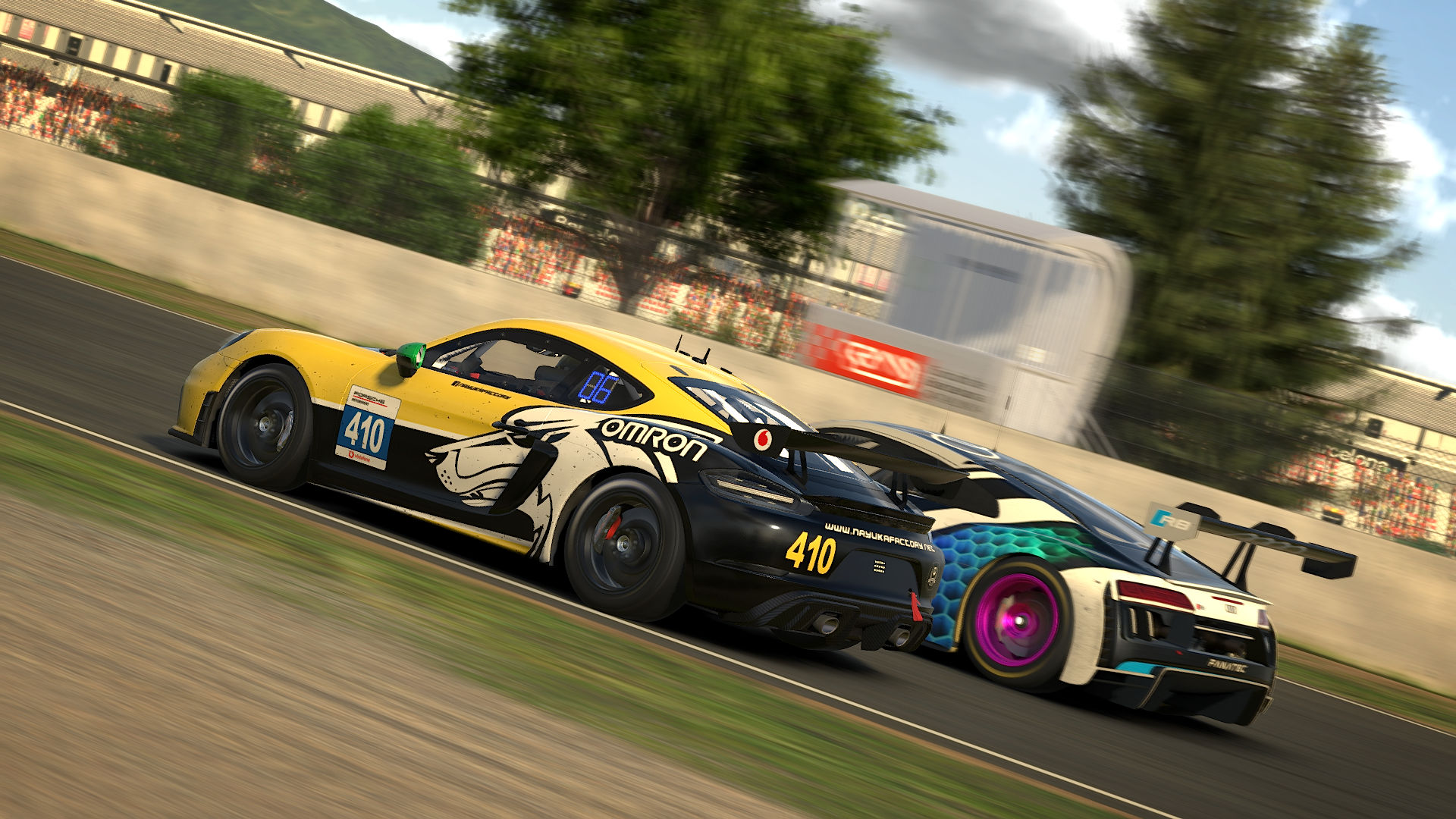 Mihail Velikov happily profited from Markov's exit and reclaimed the lead. Velikov eventually amassed a colossal lead over Mark Silcock by the finish.
Although Markov's mysterious retirement left significant points on the table, the Bulgarian driver heads to the final round at Watkins Glen with a handy lead over Mark Silcock.
Immediately after the race, GT3 AM championship leader, Tom Bingham, shared his thoughts with the Apex Racing TV commentary crew: "I'm never good at qualifying. Its never my strong point. However, race pace is normally good for me. I do a lot of endurance racing. Martinsen and Dougan had a collision in front of me and I managed to squeak by and ended up with a P2, but I don't think I deserved it today" explained the Lamborghini driver.