Apex Racing Academy GT4 VRS Super Series | Round 4 at Lime Rock Park
The tight confines of Lime Rock Park played host to the penultimate race meeting of the season, Round 4 of the Apex Racing League VRS GT4 Super Series, with Moritz Lohner looking to continue his great form at the classic American track.
The balance of power in the series has shifted over recent weeks, with the Porsche Cayman's early dominance being tempered somewhat, especially at circuits with long straights, such was the case at Canadian Tire last week.
Because Lime Rock is mostly medium to high speed corners, this was thought to be an extremely well balanced affair going into the night's two races.
Slightly reduced numbers meant once again we were going with the sprint and feature race format with no consolation.
It was set to be a heavyweight clash at the front of the sprint race, with Lohner and Sacha Gorle sharing the front row of the grid for the first time this season.  Isaac Jaen was third with the impressive Tobias Berka in 4th being the highest qualified AM driver.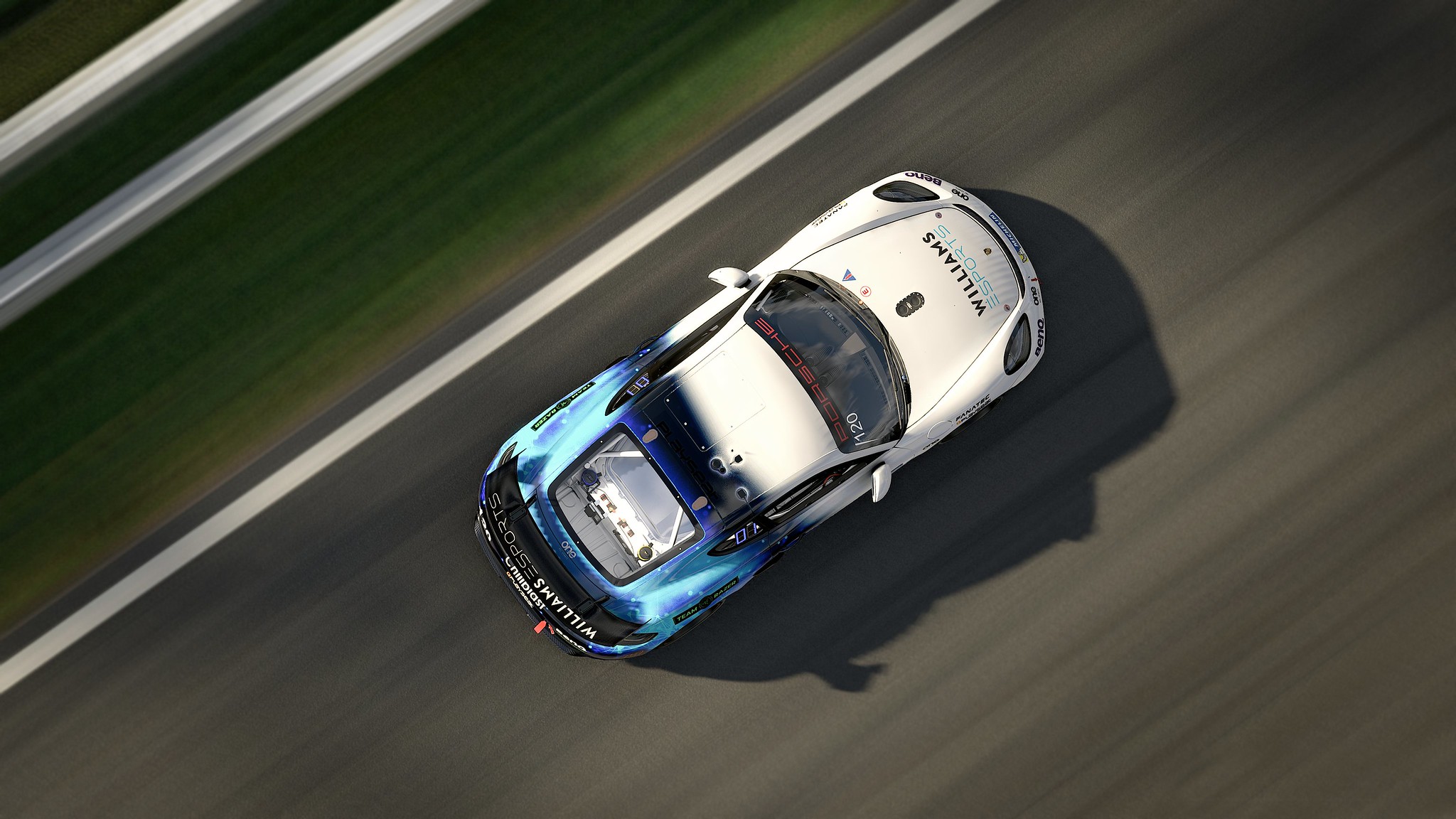 The front two got away fairly well, however championship contender Adrian Campfield was deposited into the concrete wall on the outside of turn one after an altercation with Jacob Tofts. Berka's impressive qualifying all came to nought after he lost it coming over the top of the hill and absolutely waffled the barrier on the inside, prompting a scramble behind as the wreckage of the Porsche ended up in the middle of the road.
Previous race winner Matthias Beer was making good ground, gaining five places in the first five laps of the race, however Mark Silcock made a clean move on him into T1 to claim 9th.
Gorle had got within 4 tenths of Lohner, however the Belgian's charge would be stopped abruptly in it's tracks as he had a huge tank slapper going up the hill and slammed into the tyre wall on the exit, causing damage which would mean he would finish well down the order.
For the majority of the race, a battle ensued between Joshua Jensen and Jentsen Adriaenssens, much to the confusion of us all in the commentary box!  The two raced hard, swapping positions back and forth, while further forward, Jaen had an issue in lapped traffic which dropped him down behind Biron into third.
It was all plain sailing upfront for Lohner as he took another sprint race win ahead of Lukas Biron with Jaen in third.  It was all plain sailing upfront for Lohner as he took another sprint race win ahead of Lukas Biron with Jaen in third.  Argentina's Jose Malbran was extremely happy to be 9th, as that would put him on the front row for the feature race with the top 10 cars reversed.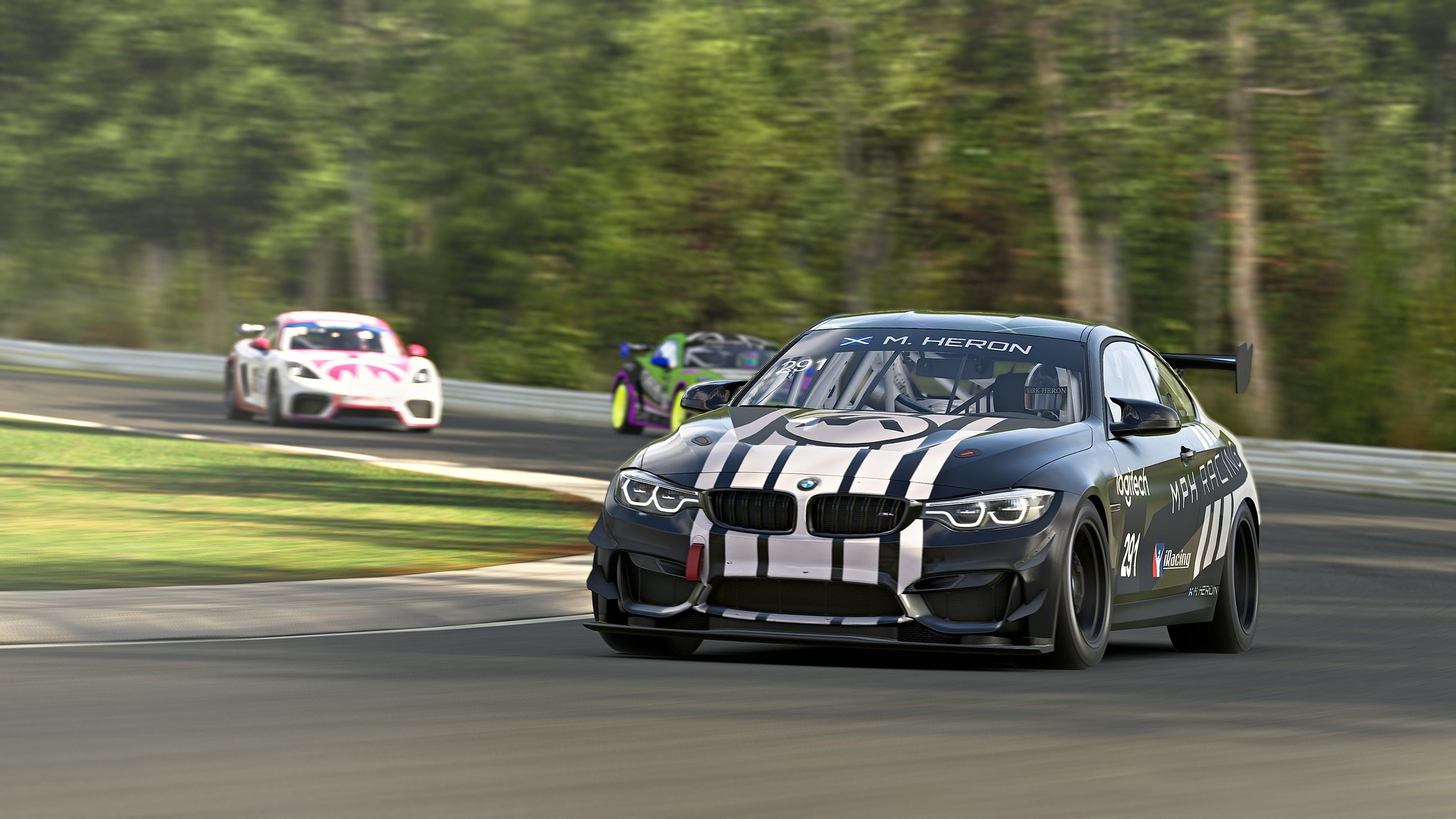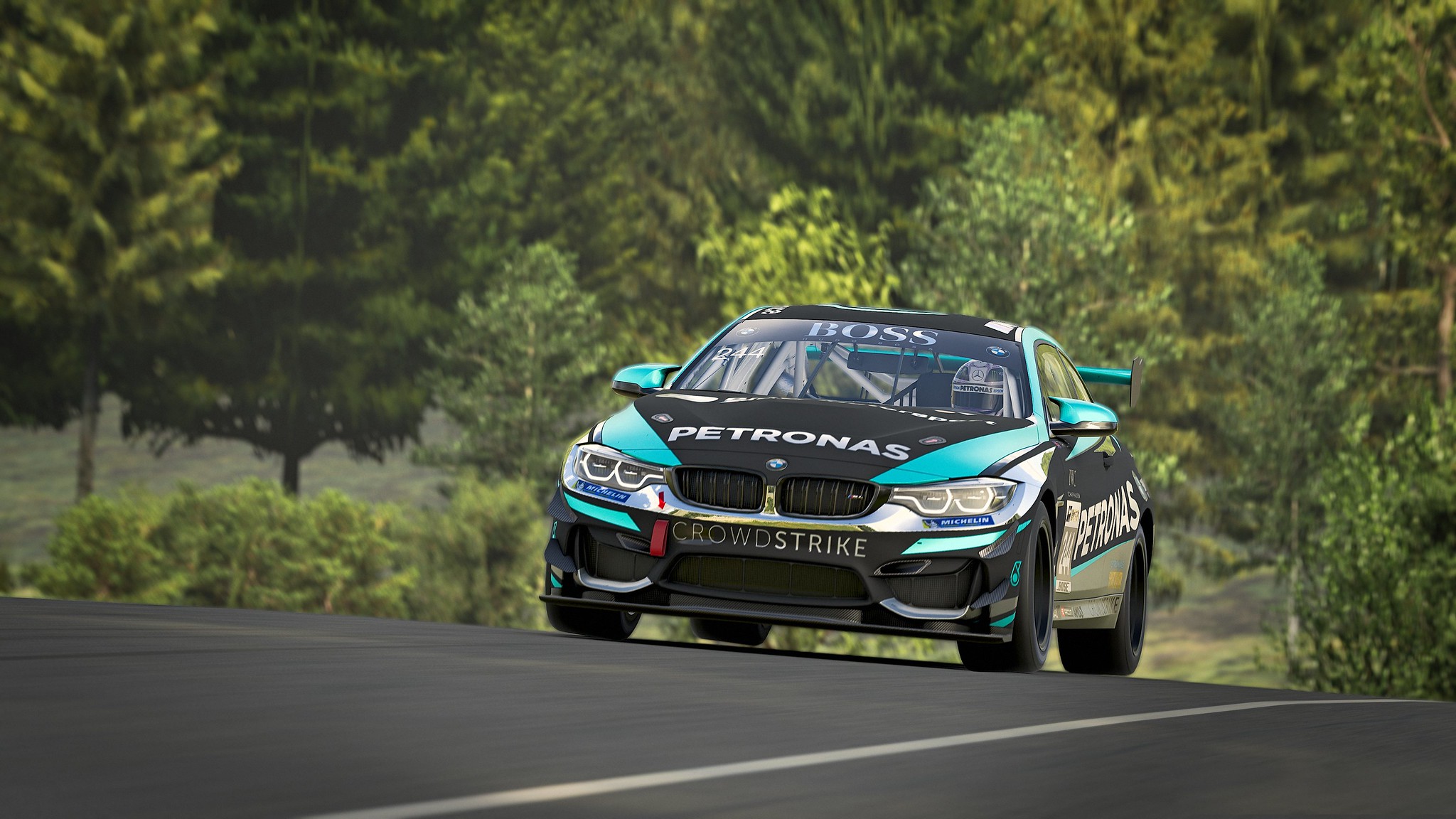 After a word from the guys at Virtual Racing School, it was time for the feature race.  A great prospect lied ahead as overtaking at Lime Rock has always proven to be difficult, so it would in theory be a huge challenge for the likes of Lohner to get through to the front.
It was a BMW on pole then, as Matthias Beer would look for his second consecutive feature race victory.  Malbran would start second with Towler and Silcock on row two and Jensen and Adriaenssens making up an all-AM top 6.
The rolling start was just about successful, however it was not a successful start for Mark Heron, spinning at the same spot as Berka in race one, managing to fair much better in terms of not hitting anything hard.
Lohner vs Gorle commenced on lap 2, the two standout drivers of the season giving us some great racing entertainment.  Towler was looking strong in third, the Yearone driver all over the back of second-placed Malbran, however his attempts to get past the man from Argentina resulted in him losing seven places as he just couldn't get back into line in time.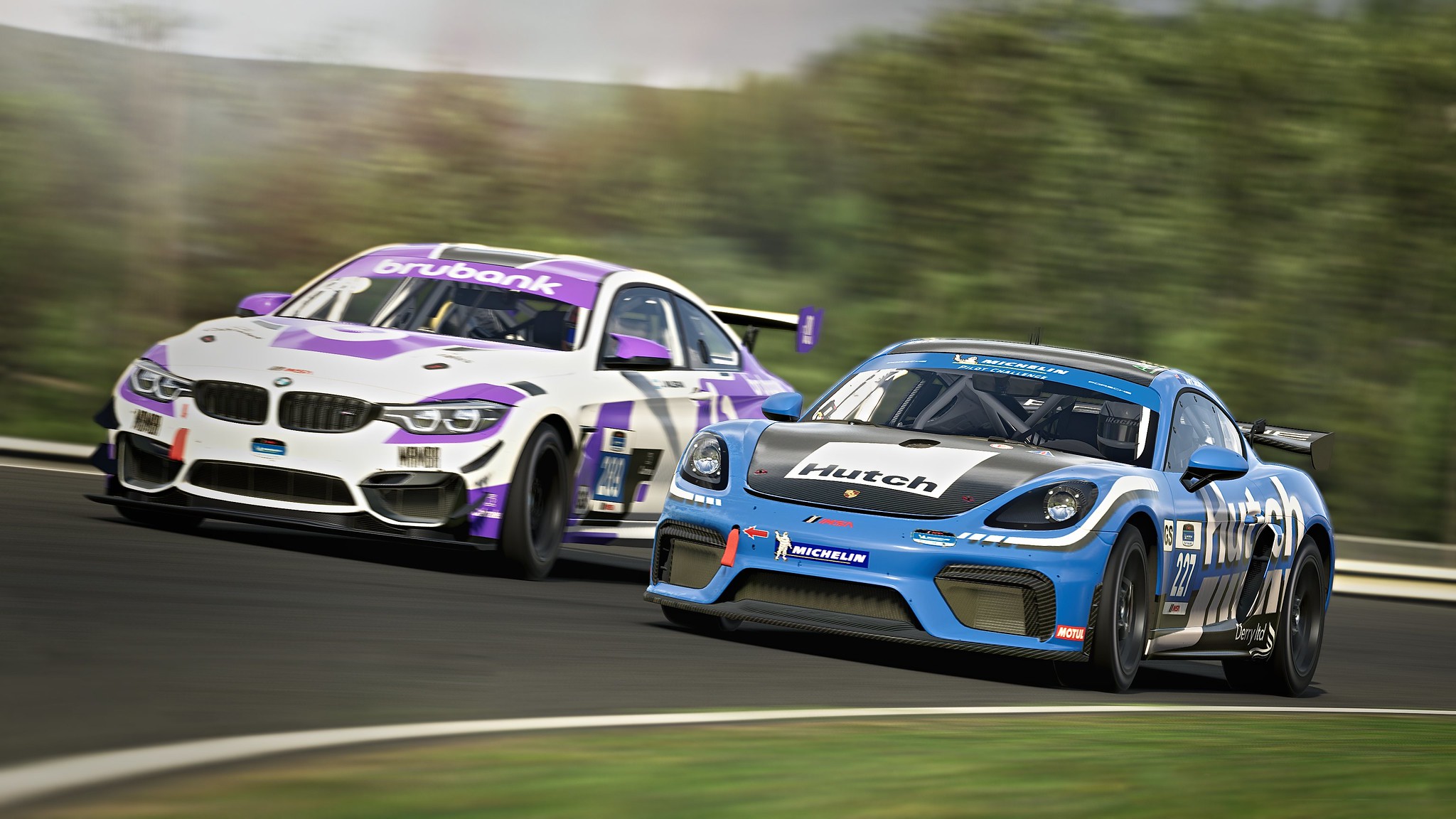 Mark Silcock would make what would turn out to be an easy move on Malbran into the hill and cruised up to the back of Beer in the lead, setting the fastest lap in the process.  Biron would get up into third as Towler's woes continued, two offs causing him to drop to 13th.  Gorle's struggles didn't show any sign of abating either, going off in a big way in the final sector, fortunately for him not hitting anything, but dropping down to 9th after a decent start.
This proceeded a huge battle at the ten-minute mark – Biron, Silcock, Lohner, Jaen and Adriaenssens fighting hard, allowing Beer to get a bit of breathing space.  Out of all that, Lohner managed to get up into third as Gorle pitted to try to make something happen after 13 minutes.
Beer was fighting hard in the lead, nearly losing it a couple of times as he tried to keep Biron behind him, to no avail however as the Canadian made it through and into the lead.  Lohner would make it through with an outside move into turn 3, with Silcock and Adriaenssens getting together at that very corner, spreading the pack out slightly.
Damien Harris pitted early on, and was trying to make some ground while the rest of them were battling.  Gorle got out of the pits ahead of Beer, however Harris was ahead of the pair of them, making some good use out of the clear track that he had due to his stop to cultivate a four second advantage.
Lohner pitted on the 22-minute mark, however Harris would comfortably pass the German in the pitstops.  Biron and Jaen were the last of the true front runners to come in, but they also couldn't get out ahead of Harris, however Biron did maintain his position over Lohner, who was trying his best to make a gap, even nudging Biron through some of the slower corners.
Gorle's day didn't get any better, having to retire after a carbon copy of his first race incident, breaking his suspension.
Harris still lead by two seconds out of the cars who pitted (Berka was leading overall having not stopped), however his race would end in disaster as he suffered what looked to be a hardware failure coming out of turn 2 with just 10 minutes to go, robbing him of a possible win.
Lohner overtook Biron to get into the lead, and Jaen was hot on the heels of the Canadian with just a couple of laps to go.  The Spaniard then made a sensational move around the outside of the hill, with Biron pitting for presumably a splash of fuel dropping him down to 7th at the flag.
It was yet another win for Lohner, the German performing at an extremely high level in this inaugural season.  Jaen was second and Berka took an excellent third and victory in the AM category.
The season comes to it's conclusion on the 4th of August at the fantastic Road America circuit, we shall see you there.
Photos by Andy Taylor