ARA F3 VRS Super Series | Imola Report
Pressure continues to rise for championship contenders in the Apex Racing Academy F3 VRS Super Series. On Saturday, Autodromo Enzo e Dino Ferrari (Imola) hosted a dramatic penultimate round of the season. Would it be Barter, Holland, Seitz or Herbigneaux taking the advantage into the Interlagos season finale?
Imola may never shake the association with the tragic San Marino GP in 1994, where Roland Ratzenberger and Ayrton Senna tragically lost their lives. However, a return to the F1 calendar this year should provide a major step to recovery for this challenging parkland circuit. In sim racing, Imola is ever popular. Track position is hard earned on this highly technical layout and therefore, racing can be aggressive.
Delta Sport Team Raptor star, David Holland, managed to hook up his Dallara and claim pole position for race one. Championship contenders, Herbigneaux, Barter and Seitz followed close behind. Rapid Dutchman, Sam Kuitert, played the wildcard in fourth place. AM class contender, Aaron Smith, claimed pole position in class and ninth overall.
Holland scampered away from pole position to an early lead, shadowed by Christophe Herbigneaux. Clearly in a hurry, Herbigneaux set up a run out of Aqua Minerale and dived up the inside into the Alta chicane. Holland tucked in behind in second place. In the background, Holland's teammate, Carl Modoff, triggered a melee. A tap from Sam Kuitert, sent Modoff into a spin on the exit of the Alta chicane. With Modoff's Dallara broadside across the track, Kuitert and Bartert had nowhere to go. Greg Seitz narrowly missed the carnage and slipped through, unharmed. Disaster for Hugh Barter, delight for Herbigneaux and Holland.
.
Following all the excitement of lap one, Herbigneaux and Holland settled into a formation, which they held all the way to the line. An excellent start to the night for both drivers. Dave MacDonald finished third for Rust Racing. Hugh Barter displayed typical Antipodean tenacity, fighting back to tenth place after the lap one shenanigans. Crucially, this would give the young ace the prime grid spot for the feature race. Isaac Snider claimed victory in the AM class by eleven seconds from Aaron Smith.
In the feature race, Hugh Barter started from pole, a prime opportunity to recover lost ground from race one. Barter didn't squander the opportunity and charged to a lights to flag triumph. The young kart racer heads to Interlagos sharing the championship lead with Greg Seitz.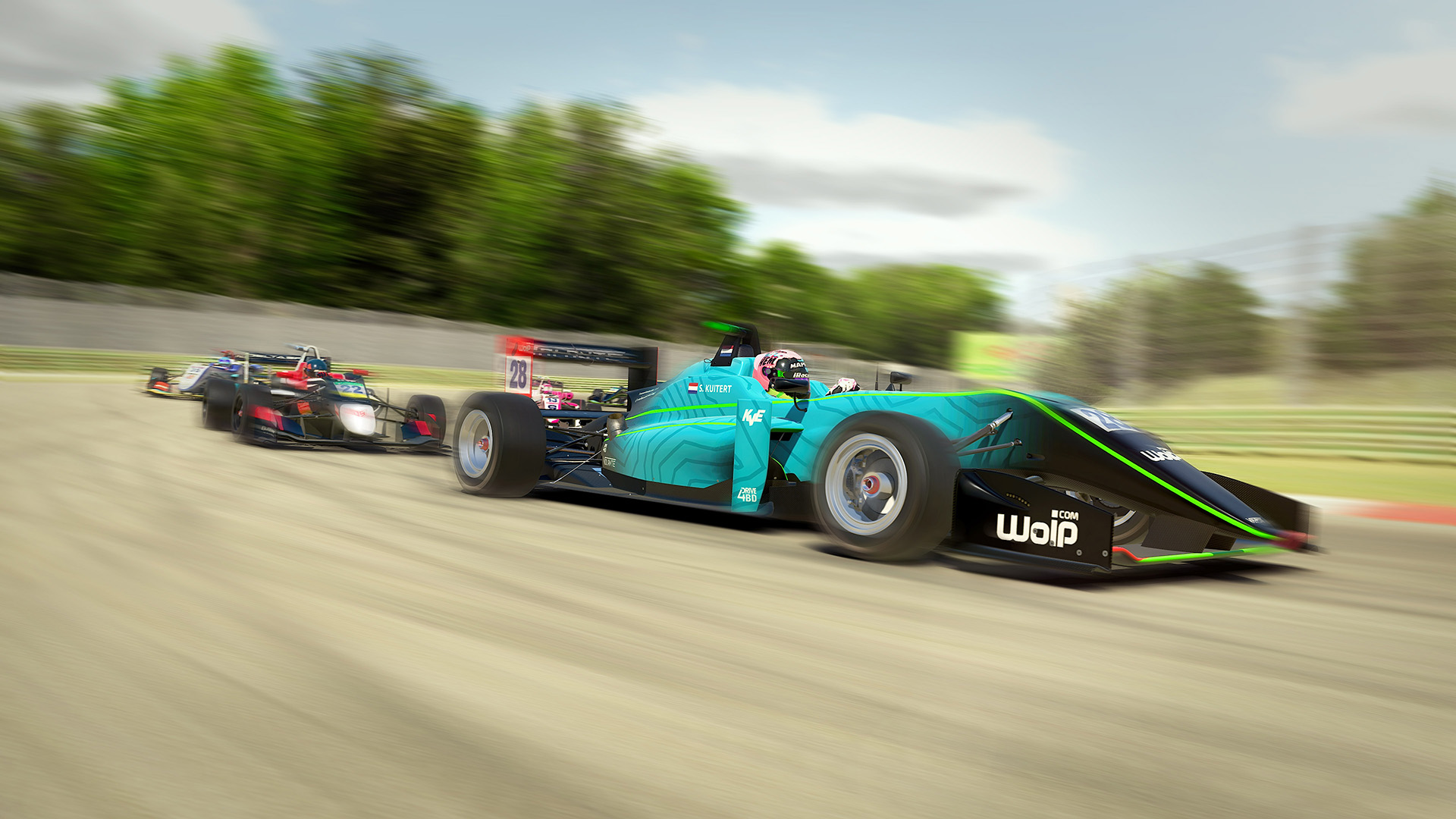 David Holland rushed from eleventh to fourth on the opening lap, but his ascent would be short lived. Exiting Tamburello on lap two, an out of control Dave MacDonald blocked Holland's path resulting in heavy contact. A catastrophe for Holland's championship hopes.
Chrisptophe Herbigneaux mounted a heroic charge of his own, from twelfth on the grid. By lap ten, the Belgian star had arrived at a podium position. However, a miniscule mistake at Tamburello was severely punished. Dropping a portion of Hankook tyre onto the grass sent Herbigneaux's Dallara into a violent spin towards the barrier. A podium finish snatched from the Fiercely Forward driver's grasp.
Despite a clumsy rear end contact from Carl Modoff, Greg Seitz brough his Rust Racing machine home in second place. Seitz heads to the final round at Interlagos as joint championship leader. Michelin Pilot Challenge TCR mechanic, Carl Modoff, claimed the last spot on the podium. Despite a few spins, Aaron Smith settled his AM class score with Isaac Snider, pulling himself into contention for the AM class title battle, at Interlagos
Following the action, a handful of drivers gave their assessments of the race to the Apex Racing TV commentary team.
Despite winning by twenty seconds, Hugh Barter revealed his surprisingly cautious approach: "I made sure that I was safe on the track limits and that I got to the finish with my car in one piece, that was my main concern. Being consistent was key."
Carl Modoff explained the challenge of handling the Dallara F3 machine, early in the race: "This car is really tricky on cold tyres. It wants to understeer a lot until the tyres come up to temperature."
An ambitious Aaron Smith revealed his despair of what could have been, despite two class podiums: "I kept saying to myself 'Don't make any mistakes' and then I go ahead and make them! I spun way too many times, today could have been so much better."
Isaac Snider remained in good spirits as the AM class championship leader, heading to Interlagos: "It started off a bit rough, I was a bit off the pace. I took it easy on the first few laps. In the first race I got lucky when five or six people got taken out at the chicane. I think, overall, I had a decent night."
Who will triumph as champion of the Apex Racing Academy F3 VRS Super Series? Find out at 8pm Eastern on Saturday the 5th of September with live coverage on Apex Racing TV.