Apex Racing Academy GT4 VRS Super Series | Round 2 at Silverstone GP
Following on from the fantastic debut of the series last week, the Apex Racing Academy GT$ VRS Super Series heads home, about an hour from the league's headquarters in Bedfordshire, to the Silverstone Circuit, a site which will be hosting two Formula One Grands Prix in 2020.  
It was slightly more serene, if potentially more exciting action that took place here this weekend, with the BMW M4 and Porsche Cayman GT4 machinery taking to the track. 
The heat format was met with success in Meeting 1 at Watkins Glen, so it was with great anticipation that we awaited the four races that make up a meeting in the VRS Super Series.
Heat One was naturally up first then, with the odd-numbered positions in qualifying taking to this race and the even-numbered drivers participating in Heat Two.
As it was in the USA last time out, Sacha Gorle of Belgium was fastest in quali, and he was once again joined by Jacob Tofts on the front row. Adrian Campfield and Matthias Beer led the way in the AM category with 4th and 6th respectively.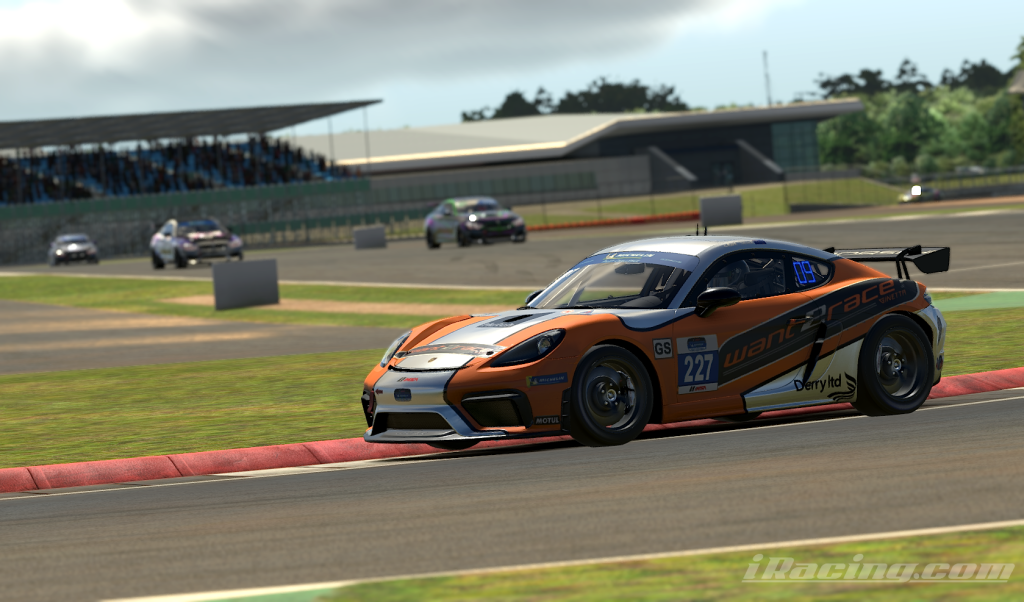 A clean start once the lights went out, with Erang looking strong in the first two laps in particular, making a move on Tofts for P2.  Dmitry Denisov managing to get past Beer into 6th was the only notable move behind them early on, with Gorle starting to build the gap over the chasing pack. 
As there was a slightly smaller grid, nearly all the drivers would qualify for the Final, however grid positions still needed to be decided, and drivers were battling hard; Paul Clist and Andy Taylor exchanging positions at the halfway mark.  Due to Carl Jacolette's early misfortune, 16th place looked safe for one of them.  So it proved to be as positions remained the same for the rest of the race; Clist qualifying for the final in 16th while Jacolette and Nick Dors ended up in the consolation race, if there was to be one!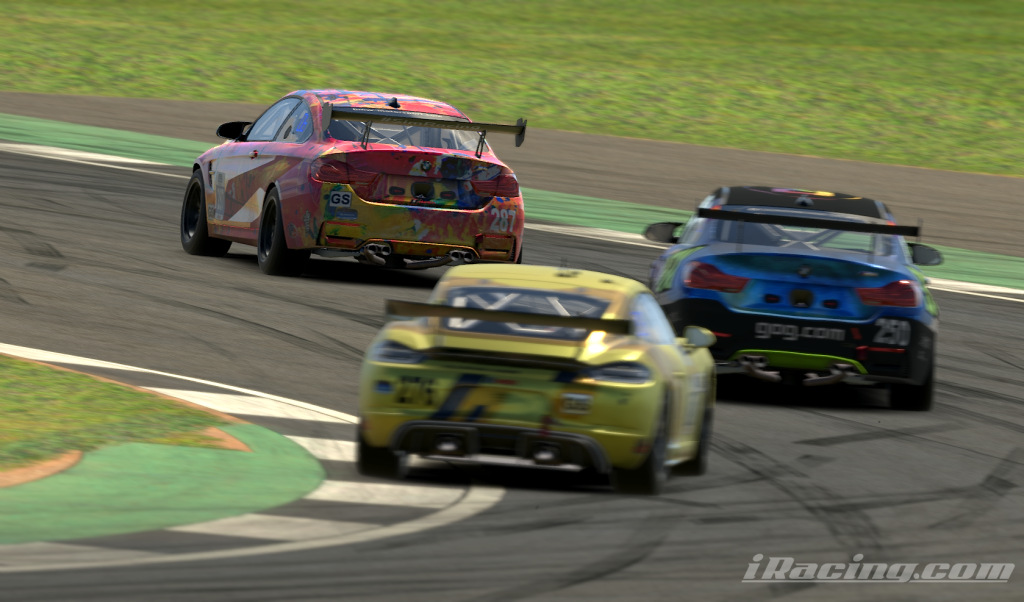 Germany's Moritz Lohner was on pole for Heat Two, with Isaac Jaen, Damien Harris, Lucas Biron and Philip Johansson the top 5.  Mark Silcock once again looked strong in the AM category and he would be starting 6th.
Once again a clean start for most, however Jentsen Adriaenssens came to grief in Copse corner, being quarter-panelled by one of the BMWs into one of the fastest corners on the course.
The front three were away well, with Harris getting the better of Jaen early on, and four BMWs chased down the Porsche of Lohner through the fast and flowing corners of Silverstone.
Lucas Biron of Canada was one of them, and he set up Johansson with a lovely move through the Loop, slipstreamed down the Wellington Straight, and got the move done into Brooklands cleanly.
Silcock and Seger battled, while they were side by side Tobias Berka joined the fun, having a look into Vale and then into the first sector, getting past Silcock though Aintree.
Adriaenssens' comeback continued, getting past Sibon for 16th place and a spot in the final.
There was drama for Lohner however, a slow down dropping him to third, before engaging in a terrific battle with Jaen and Harris to attempt to regain the lead, which he did, brilliantly on the final lap with a move around the outside of Vale.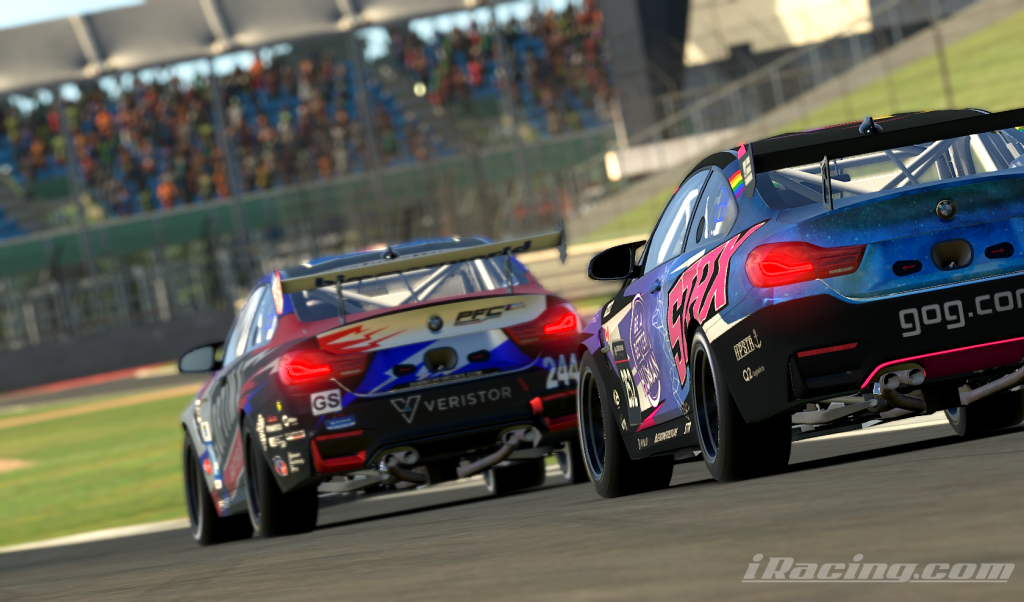 It was debated in the Apex Racing TV commentary box earlier; and after a visit to our partners at Virtual Racing School, it was confirmed that we would be going straight to the Final this week.
As usual ten cars would be reversed, meaning that Philip Johansson would start on pole ahead of Adam Tomkins, with Heat One winner Sacha Gorle in 10th and Heat Two winner Moritz Lohner in 9th.  At least that's what was supposed to happen, as it appears Gorle didn't take the start.
Tomkins and Derrick came a cropper on the first lap in separate incidents, while Johansson led from the once again impressive Adrian Campfield.  Lohner had made great progress and was already up to 5th by the end of lap 1 – Damien Harris just preventing him getting 4th, but only temporarily as the German was able to sneak by into Brooklands two laps later.
It was all closing up at the front as Johansson was coming under pressure , although it was relieved somewhat as Campfield was hit by Biron, however the Canadian was gracious in accepting responsibility, ceding the place back to the Brit soon after. Small consolation for Adrian having dropped down to 7th.
Lohner and Johansson were fully into battle now, with Harris an interloper in the scrap; hitting Johansson and promoting Lohner and Erang up to 1st and 2nd as BMW's challenge imploded with Harris being given a drive through penalty for his transgression at Stowe.
It was plain sailing for the two Germans up front though, as they were never challenged again in this one.  Matthias Beer drove brilliantly to finish 6th and take honours in the AM category over the beleaguered Campfield.
Next week the series heads to the fast, classic circuit in Canada at Mosport, we can't wait for it!